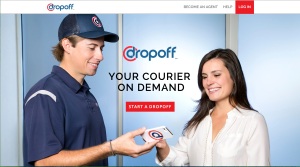 About a year ago, Sean Spector needed to get some important documents to downtown Austin by 5 p.m. He hired a local courier service and they arrived late for the pickup, got lost on the delivery, and ultimately arrived late for the delivery and didn't get a confirmation signature.
Spector investigated the industry and decided to create a better solution.
That solution is Dropoff, which officially launched Wednesday in Austin, to provide same-day delivery for businesses, of all kinds of goods, ranging from food catering orders to medicines to legal documents.
"I found the overall level of service lacking. Surprisingly, few couriers provided delivery confirmations and virtually none offered real-time package tracking — best practices already utilized by other industries," Spector said.
Dropoff's secret sauce is in making the courier process easy to track in real time and easy to order online. The company has 16 employees and is backed by $1.85 million in seed stage funding from Austin Ventures, Silverton Partners, Techstars/Bullet Time Ventures, Mucker Capital and angel investors. It employs contractors to make the actual deliveries. They use their own cars and smart phones to process and deliver the orders. Spector, for competitive reasons, declined to disclose the number of contract couriers Dropoff employs. But he did say the company keeps them busy all day long and they are not like other shareable company ventures which allow people to pick up work during a few spare hours of time.
Dropoff's couriers, called agents, also wear uniforms.
"With bikes, cars, trucks and vans, Dropoff can deliver anything from a letter to catering for 200 people to a 500 pound pallet," according to the company. "Dropoffs originating in Austin can be delivered as far as Houston, Dallas and San Antonio. Online and phone support makes it easy for customers to contact Dropoff with any questions they may have."
Dropoff has been in beta testing since this summer, Spector said. It has delivered everything from catering orders to businesses for HEB to legal documents for a law firm. It will not deliver pets, people or anything prohibited like guns, illegal drugs, etc.
The service will start in Austin and then rollout to other cities in early 2015, said Spector, Dropoff's CEO and co-founder. The team behind Dropoff have extensive experience launching and working at startups. Spector, co-founded Gamefly. Other members of the team include Christian Carollo, former head of mobile and cloud development at Gamefly, Ted Hong, former chief marketing officer of Fandango and Jason Klann, former senior vice president of business development and strategy at Schneider Electric.
Spector isn't worried about his couriers being replaced by drones. (Amazon is testing drones for same day delivery and has recently announced same-day delivery of packages in select cities.) The key to Dropoff's success is providing excellent customer service to businesses, he said.