By LAURA LOREK
Founder of Silicon Hills News
Google plans to launch its 1 Gigabit Fiber Internet service in South and Southeast Austin in December.
"I want to emphasis off the top, that is where we will start," said Mark Strama, city manager for Google Fiber. "This is not where we will finish. We will be rolling this network out in segments throughout the entire city. But we have to start somewhere."
"Because we are building it from the ground up we can't deploy the whole city at once," Strama said.
In April of 2013, Google announced Austin as the latest location for its Google Fiber. It planned to launch the service in mid-2014, but the project has taken longer than originally expected because of weather delays and other issues.
Since Google announced its plans, AT&T and Grande Communications have also begun to roll out their own 1 Gigabit Internet service in Austin.
In August, AT&T launched its 1 Gigabit per second Internet service to tens of thousands of its customers in Austin.
Google welcomes the competition, Strama said. Google wants everyone to have access to the fastest Internet possible, he said.
High speed broadband Internet has a transformative effect on society, Strama said. Business models like Youtube and Netflix weren't possible in a dial-up Internet world. But Google, by making the Internet 100 times faster, will create all kinds of new businesses and applications that entrepreneurs and inventors will dream up, he said.
Video conferencing applications will be some of the first real applications of Gigabit data, Strama said.
Installing Google fiber is a massive construction project, said David Anthony, technical program manager. The project involves planning, permitting and deploying fiber optic cable, he said.
Google is installing 20 Fiber huts, 1,000 telecommunications cabinets and 3,000 miles of fiber optic cable, Anthony said.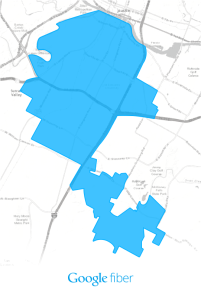 Austin is the third city to get Google's 1 Gigabit network. In 2012, Google deployed a 1 Gigabit network in Kansas City, Kansas and Kansas City, Missouri. Google also provides a 1 Gigabit network in Provo, Utah.
In February, Google invited 34 cities nationwide including San Antonio to explore what it would take to bring Google Fiber to their city. Strama said he didn't have any updates on San Antonio yet, but he expected to announce something soon.
The U.S. lags the rest of the world when it comes to providing high speed Internet. The U.S., which ranks 14th in the world in Internet speed, has average connection speed of 11.4 Mpbs. Only 13 percent of those connections are fiber, compared to 86 percent in Japan.
Google is providing free Gigabit Internet access to 100 nonprofit organizations in the city.