By LAURA LOREK
Founder of Silicon Hills News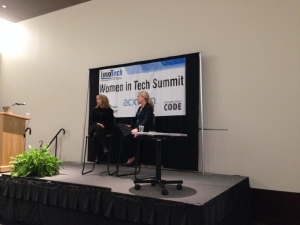 It's no secret women in technology jobs are underrepresented.
Women hold more than half of all professional jobs in the U.S., but make up less than 24 percent of all computer-related jobs, "representing a huge pool of untapped talent," according to a study by the Clayman Institute for Gender Research at Stanford.
"The numbers are not moving in favor of increasing women's participating in technology; in 2008 women earned only 18 percent of all computer science degrees. Back in 1985, women earned 37 percent of CS degrees," the Clayman Institute reports.
The 2014 Women in Tech Summit at InnoTech Austin on Wednesday featured straight talk about the challenges women in technology face and ways they come overcome barriers and excel.
During the opening keynote address, Angela Yochem, chief information officer of BDP International, talked about being ignored in meetings at a previous job. She would offer her ideas and her colleagues would politely listen and move on. So she teamed up with a male coworker. She offered up an idea. He copied down exactly what she said. He waited about five minutes and then offered up the same idea.
"All of a sudden he was the most brilliant guy in the company. He was on fire," Yochem said.
The group embraced his idea. They did this for three month and it always worked the same. They ignored her but they embraced the exact same ideas when it came from him. One night over drinks, they told the group of what they had been doing. The group laughed uncomfortably but they were horrified, Yochem said. They had been tuning her out.
"They said they didn't realize they were doing this," Yochem said. One guy floated the notion that maybe they were tuning her out like they tune their wives out at home, she said.
This happens to women in conference rooms all over the U.S., said Janelle Monney, founder and managing partner of The Monney Group.
In fact, National Public Radio just did a story on how women's voices are not perceived as authoritative in the workforce. It reported on studies showing that feminine voices are perceived as less trustworthy, less competent and insecure.
Yochem and Monney also discussed work and life balance. They both agreed working made their children more independent and self-reliant, which are the traits they need to succeed in life.
Women also need to focus on what makes them happy, Yochem said.
"Ever single one of us needs to take time for ourselves," Yochem said.
A member of the audience asked about policies companies should have in place to attract and retain female workers. Yochem said the company has to have a culture of flexibility and good managers with bosses that have the employees' backs and makes sure their voices get heard.