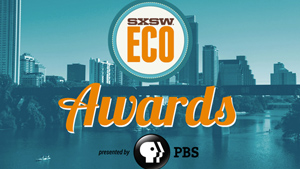 SXSW Eco announced five winners of its third Startup Showcase during a ceremony at the Austin Convention Center Tuesday night.
Open Water Foundation of Fort Collins, CO., won for Social Impact for a non-profit and Drinkwell of Boston won for Social Impact for profit.
PAX Pure of San Rafeal, Calif. and Picasolar of Fayetteville, AR, tied for the win in the Greentech category.
Lagoon of Cincinnati, OH., won in the Cleanweb category.
SXSW Eco's 2014 Startup Central programming was produced in conjunction with Austin Energy and the Austin Technology Incubator, part of the IC2 Institute at the University of Texas at Austin.
The Startup Showcase featured 32 companies. Each one gave a four minute pitch, followed by four minutes of questions and answers with a panel of judges. The judges included representatives from Target, Shell Technology Ventures, the Whole Planet Foundation, New Enterprise Associates and Sprint.