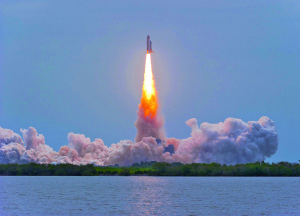 By LAURA LOREK
Founder of Silicon Hills News
Rockets launching are a symbol of Texas' rich history in the space industry.
Although innovation has become a buzzword in many circles it still rings true in Texas and the neighboring states of Louisiana and Mississippi, which all have NASA facilities.
Space exploration is at that heart of innovation.
First, the nation raced to put astronauts on the Moon. Mission accomplished. Next, NASA built Skylab and then took 10 years and 30 missions to complete the International Space Station. In September, NASA announced a $6.2 billion contact with private companies SpaceX, a startup, and Boeing to shuttle astronauts to the ISS.
And now NASA has sets its sights on taking humans to Mars.
Talk about big ideas. Texas has ideas as big as the state. And that's evident when you look at the tech startups coming out of Central Texas. They aim to tackle big problems and deliver clever solutions.
The ecosystem of investors, law firms, accountants, public relations firms, accelerators and incubators, banks, universities, government departments, chambers and support agencies all help to make this a strong region for technology and innovation. But it's the people who make things happen. And in this issue, you'll meet one of them, Jacqueline Hughes, creator of the Austin Startup Week. And we'll introduce you to even more people who make up the great tech scene in our next issue.
For now, enjoy these stories of entrepreneurs creating something from nothing and pushing the envelope of innovation.
Without a doubt, the tech industry is white-hot and taking off in Austin and San Antonio. The sky is the limit.