By LAURA LOREK
Founder of Silicon Hills News
Late one night, Nick Rellas and Justin Robinson, two Boston College graduates, pondered how to disrupt regulated industries. The only problem, they had an empty frig. And they were thirsty.
So they asked "Why can't we get alcohol delivered?"
And they spent the next year working with a liquor store to solve that problem. They didn't join an incubator or accelerator. The liquor store was their incubator, Rellas said. It provided the "best education you can ask for about the industry."
Their venture turned into Drizly, founded in 2013. Drizly is an app meant to quench the thirst of legal drinkers and boost the sales of local liquor stores.
And it's launching in Austin on Thursday.
"Austin has always been high on our list," said Nick Rellas, Drizly co-founder and CEO. "You've got this cultural and personal fit that works well with what we're trying to do with Drizly."
Austin is a city of tech savvy early adopters, entrepreneurs, innovators and it's also a town that knows how to have a good time, Rellas said.
With Drizly, delivery of beer, wine and liquor is now available downtown and the following areas: Barton Springs, South Congress, Tarrytown, West Campus and Zilker. It's partnering with Wiggy's Liquor. The company estimates delivery takes between 20 minutes to 40 minutes.
The app is available for iPhone and Android smartphones or via the web. Drizly is offering free delivery on a customer's first seven deliveries if they sign up by Oct. 7th. The delivery fee is normally $5. Delivery drivers authenticate and validate IDs upon arrival using Drizly technology.
"From a legal standpoint, the license to deliver has to be a store employee," Rellas said. "We don't have our own employees. We're just connecting you with the local store. No markups and no hassle.
Austin is Drizly's seventh market. It's also available in Boston, Chicago, Denver, Los Angeles, New York and Washington, D.C.
Drizly will have two to three employees in Austin, Rellas said. It expects to add more stores in coming weeks and increase its delivery area.
Drizly is about convenience, Rellas said.
"It's giving people back the most important entity in their life – their time," he said.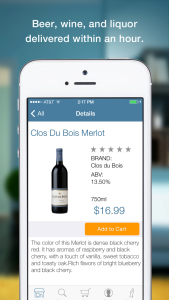 Drizly also brings new revenue to stores, Rellas said.
"The idea is to create sustainable revenue for them," he said. "We're working with people in a local ecosystem and we're not trying to steal their business we're just trying to make them more.
Drizly has received about $5 million in seed funding from institutional and angel investors in the Northeast. The company plans to operate in 12 to 14 markets by the end of the year.
"There's a handful of other markets in Texas that are equally attractive," Rellas said.
And even though Drizly is just now entering the Texas market, the best selling vodka for delivery in all of its markets is Tito's, Austin's original vodka maker.