By LESLIE ANNE JONES
Reporter with Silicon Hills News
"Our first product will be the nipple," says Laura Bosworth. And the CEO and co-founder of
TeVido BioDevices
isn't talking about a silicon attachment for a baby bottle, her startup aims to 3-D print human tissue.
It sounds like the stuff of science fiction, but making it a reality may not be far off: Bosworth estimated that if TeVido secured the necessary funding ($7-8 million), they could be ready for clinical trials in as little as two years.
Bosworth started TeVido with Dr. Thomas Boland who is one of the foremost researchers of live-cell tissue printing. Boland is the inventor of a patent for inkjet tissue printing. He first tried modifying an inkjet printer to print with human cells in 2000, when he was working at Clemson University. He is now based at the University of Texas at El Paso where he is the director of biomedical engineering.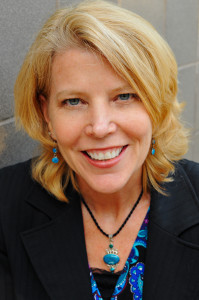 Bosworth retired in 2008 after spending a decade each at Dell and IBM. An engineer by training, Bosworth worked in manufacturing engineering, corporate strategy, product development and marketing over the course of her career. Finding that the leisure life was not for her, Bosworth began working with startups in 2009 at the suggestion of one of her old mentors from Dell.
The dean of engineering at UTEP called on her to advise their commercialization office. Volunteering at the university is how Bosworth met Boland and learned about his work. She was immediately enthralled.
"This is so amazing, and has the potential to really change certain aspects of medicine," she said. Bosworth volunteered to take on the CEO role and help bring bioprinting to market.
TeVido was founded in 2011. After going through a couple different ideas and investigating the market, they decided to focus on nipple-areola reconstruction. Structurally, nipples are fairly small and simple, comprised mainly of fat and skin cells. The trick with bioprinting anything thicker than .1mm layer of skin is that it needs a vascular structure to deliver oxygen to the tissue, otherwise it will die. Bosworth says their technology is unique in that it has the capability to deliver that capillary structure.
In 2012, TeVido brought on serial entrepreneur Scott Collins who has a PhD in biomedical engineering to be chief technology officer. Boland remains based at UTEP, while Collins oversees the company's ongoing research and development. From July forward, TeVido is targeted to move into the Texas Life Sciences Collaboration Center in Georgetown, though the relocation depends on securing funding. Collins says one of his goals is to someday bioprint a human heart. But it's not only the relative simplicity of nipples that make them a good starting point, there's a clear need for better solutions in post-cancer breast reconstruction.
"The plastic surgeons we've talked to see the need for this," Collins said.
Presently, there are several imperfect options for approximating a nipple in reconstruction surgery. A common one is to create the protrusion by sewing skin together and tattooing it for color, but this solution very often does not last.
Bosworth recounted interviewing one woman who'd had 15 surgeries over seven years. "They don't look great," the woman told her, and as for the nipples, "flattened and faded." There is a substantial amount of research about the trauma and distress of losing nipples to cancer. For many women, reconstructed nipples are an important part of the psychological healing process.
Presently, funding is a major challenge. TeVido has received less than $1 million to date, mostly through government grants, and Bosworth has heard a lot of "you're too early" and "it's too risky." "People don't want to fund you until you're in human tests," she said, but there is a lot of expensive work to be done before reaching that stage. In the best-case scenario, their product could be on the market in five years, but it may take much longer. TeVido applied for a $750,000 National Science Foundation grant in January. If they get it, they'll have the opportunity to apply for further funding.
One of the reasons 3-D printing human tissues makes sense is that the source cells will come from the patient, and the printing process will be tailored to her precise dimensions. How TeVido's printing will likely work is the plastic surgeon who is performing breast reconstruction will take a sample of skin and fat from the patient and send it to TeVido's labs. The doctor will coordinate his surgery, scheduling with TeVido so that the nipple is printed and delivered at the right time. Since TeVido will be using the patient's own cells, they are optimistic about the longevity of their product, especially in comparison to the nipple reconstructions that are on the market now.
Perhaps in a couple decades, printers like TeVido's will be producing full, complex human organs and save some people from lingering on a lengthy list awaiting organ donors. Bioprinting solutions may one day supersede mechanical ones because bioprinted human tissues will grow with the patient, unlike synthetic solutions, which sometimes need to be replaced as the patient's body grows and changes.
If TeVido is successful, it could clear the path for other 3-D printed, human-tissue products.
"Sometimes people say, 'why did you pick something so hard?'" Bosworth says. "I tell them, 'it picked me.'"
Editor's Note: Laura Bosworth is one of the featured speakers at Voice & Exit on Saturday at Austin Music Hall. The company also recently won TechCrunch's pitch off contest in Austin and it will present at TechCrunch Demo in the fall.