By LAURA LOREK
Founder of Silicon Hills News
In a place once known for making beer, something new is brewing.
And it's high tech.
Peer 1 now has one of the hippest tech sites in town.
The web hosting company recently moved into 25,000 square feet of space at Pearl, a 22-acre historic downtown development, dating to 1881, which once served as the bustling Pearl Brewery.
Now Pearl features shops, restaurants, bars, offices and apartments and Peer 1, a global web hosting company with more than 100 employees.
"We've created a live, work, play environment for employees," said Robert Miggins, Peer 1's senior vice president of business development.
That movement appeals, particularly, to younger workers who like to bike or walk to work and home and enjoy the coffee houses, bars and restaurants nearby.
Peer 1's new workplace features an open workspace with twenty foot ceilings, chalk walls, whiteboards and an even a van that once served as a Pearl beer delivery vehicle that has been refurbished into a meeting room.
Peer 1 also installed a full kitchen so its employees can make breakfast tacos, lunch, dinner and other snacks. The former hair dying station for the former tenant, Aveda Institute, now serves as a bar. And Peer 1 installed a cantina lunch area decorated with Papel picado emblazoned with the Peer 1 logo hanging from the ceiling, booths, and colorful festive tables with red, green and silver metal chairs. The new headquarters also has a game room for employees to blow off steam playing Ping-Pong, foosball and Pac-Mac. Peer 1 also established a workout room with weight machines, treadmills, elliptical trainers and locker rooms with showers.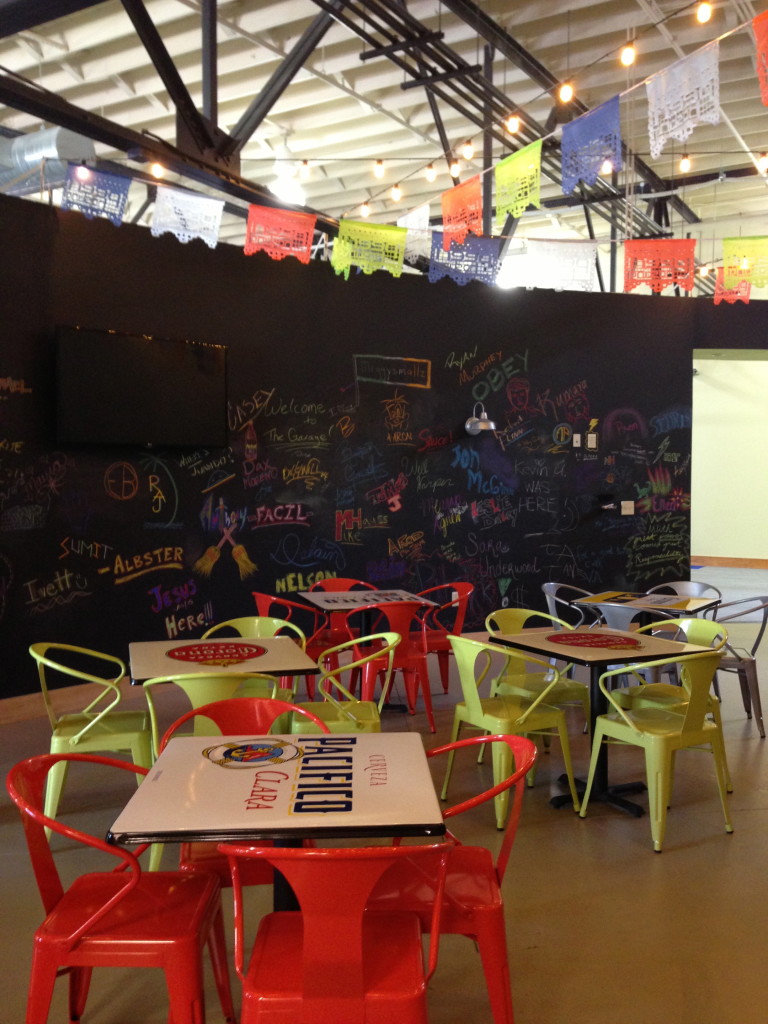 The garage from the Pearl Brewery dates back to 1939. The building retains its historic features but it has been updated for a hip, young tech workforce.
The Peer 1 office has conference meeting rooms named after Texas brewed beers like Alamo, Santo, Lone Star and Pearl.
Pearl is at total capacity right now for office space, said Elizabeth Fauerso, its chief marketing officer.
In addition to Peer 1, San Antonio Area Foundation, Bank of San Antonio, CE Group and the KGBTexas have all set up shop there, she said.
"It's a creative environment," she said. "Peer 1 is the only explicitly tech company here."
Peer 1's knowledge-based workforce and clean technology industry and its focus on sustainability make it a good fit for Pearl, she said.
"We're very excited to have Peer 1 here," she said. "The technology industry is a fast growing industry in San Antonio."
Peer 1 has been on the Northeast side of San Antonio for six years, Miggins said.
"We've gradually been growing our staff and building up our data center," he said. "The data center is not quite full, but the office part of it – we were bursting at the seams. We began an office search in earnest a little over a year ago."
Peer 1 narrowed its search down to three locations, none of which were at Pearl, Miggins said.
"They were one story buildings kind of in the middle of nowhere," he said. "Nothing inspiring."
Then Dax Moreno, director of North American sales, went to Peer 1 UK in South Hampton to visit its three-story bar and restaurant and reimagined it into a tech office.
"We got inspired to look for a more creative workspace," Moreno said.
At that time, the Aveda Institute announced they were leaving Pearl. The space opened up and Peer 1 snatched it up. They worked with Texas Wilson to outfit the office in funky and functional Steelcase furniture. They even created a space which can be used for public meetings and conferences when a garage door is lowered to shut if off from the rest of the office.
"It just worked out really, really well," Miggins said. "Several of our people have moved apartments and now walk to work."
Peer 1 is also hiring developers, sales people, leadership, managers, supply chain, operations folks, Miggins said.
"We are hiring across the entire company," he said.
The new location also raises the profile of Peer 1 in San Antonio. Many people know about Rackspace Hosting, a larger web hosting company here but they may not have heard of Peer 1.
Yet Peer 1 has its roots at Rackspace.
Richard Yoo, one of the founders of Rackspace, launched ServerBeach in 2002 in downtown San Antonio at what now serves at the CityNap building. They flew a pirate's flag from the top of the building to signify its break from the main company. He grew the business within Rackspace and the company sold it in 2004 to Peer 1 for $7.5 million. Miggins stayed with Peer 1 and has been heading up its local operations ever since. Peer 1 competes with Rackspace for hosting customers, but it sees its competitive advantage as being a smaller organization.
"We're smaller," said Moreno. "We're more nimble, more flexible.
Peer 1, based in Vancouver, Canada, provides web hosting at 19 data centers in four countries. It has more than $200 million in annual revenue and 500 employees worldwide.
"Our story is about offering customers lots of choice,'' Miggins said. Its customers include WordPress.com, Virgin Gaming, Plenty of Fish, Softpedia and Wooz World.
Moreno also joined Peer 1 from Rackspace. He likes the size of the organization and it's ability to react quickly to its customers and the marketplace.
"We don't want to be the biggest, we want to be the best,'' Moreno said.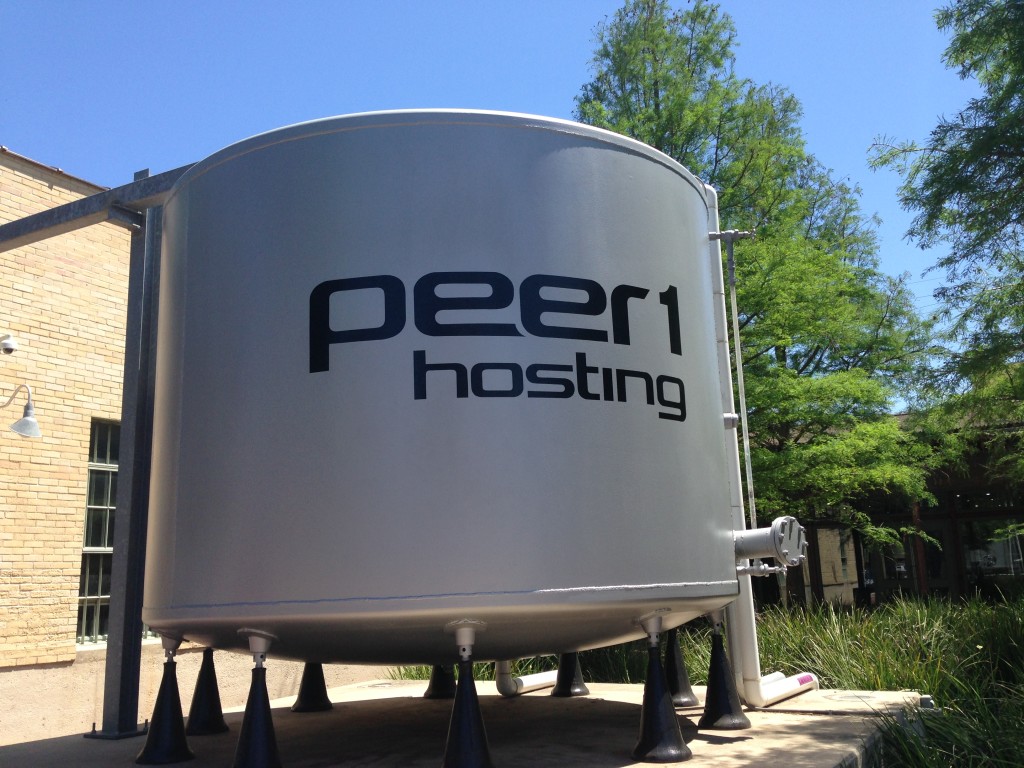 Peer 1 has struggled in the past with creating awareness about its business in San Antonio, Miggins said. But now the site at Pearl has already increased its visibility in the community and it's attracting employees from outside the city too.
"This will increase the pace of new hires here," Miggins said. "We can now attract people who are drawn by the lifestyle."
San Antonio recently tied with New Orleans for the number one city gaining the most college graduates, according to a Forbes article. It reported San Antonio attracted 76,331 college graduates between 2007 and 2012 for a percentage gain of 20 percent.