By LESLIE ANNE JONES
Reporter with Silicon Hills News
On a sunny Saturday, 12 children and young teens convened in MakerSquare's classrooms for a little weekend coding. "What do we think these are?" teacher Drew Robinson asked a room full of kids seated before laptops. "Opening and closing HTML tags," an elementary school boy speedily replied. Turns out, a kid's ability to soak up languages extends to computer languages too.
The Saturday event was a free workshop and part of MakerSquare's outreach effort for Hatch After School, a weekly web development and computational thinking program for K-12 students. The program costs $159 per month.
Barely a year old, MakerSquare started offering its web development boot camp last summer. Today, the school has two tracks for adults: A 10-week, part-time web development course that costs $3,380 and a 12-week full-time course that teaches the fundamentals of software engineering for $13,880. Demand is high, students come from all over the country and world. Co-founder Muhammad Meigooni says so far they've graduated 130 students, and they have a 96 percent job placement rate within three months of graduation. Now they also have youth program Hatch. The basics of that course are very similar to how adult students start to learn.
"They're learning as quickly as adults," Meigooni said of the first batch of Hatch students.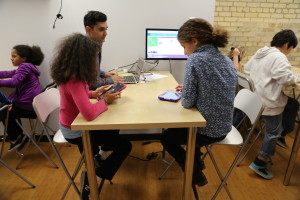 Hatch After School is loosely designed in eight-week blocks, units can be shortened or lengthened based on the group of students. For the first eight weeks, students become familiar with HTML and CSS and the basics of computational thinking. In phase two, they're introduced to Java and basic game design, and in the final phase they work on advanced web development or build an actual game using Java. The whole schedule might take six months to a year, and for advanced students who complete the phases and want to continue learning, MakerSquare will pair them with a mentor in the community who can continue to help.
Learning to code can be a daunting prospect, which is why MakerSquare's program keeps it simple in the beginning. To start out, kids use "drag and drop" tools to place blocks of code to build web pages. From there they move on to pattern recognition and learning the vocabulary of which HTML tags do what, then after that they begin to write their own code.
Presently, most Hatch students are middle schoolers, but the program can accommodate students as young as second or third grade. The entry barrier is essentially typing ability: If kids don't have solid typing skills, the level of frustration becomes too high.
Hatch After School isn't all about screen time. Teachers Meigooni and Robinson like to break it up with real-life exercises too. One exercise they have kids do is divide up into pairs, one student is given a group of triangular and square-shaped puzzle pieces, and one student is given a diagram for how to arrange them (into the shape of a spaceship, for instance). The students sit back to back and the kid with the diagram has to instruct the other on how to put the pieces together without showing his partner the diagram. This lesson in computational thinking shows kids how very specific instructions have to be in order for a computer to produce a desired outcome.
Drew Robinson started out as a MakerSquare student in February. Previously, she was a high school teacher in Tulsa. Originally she taught history, but when the AP computer science teacher retired, she was tapped for the job due to her tech-savvy reputation and given just a summer to teach herself Java. Without formal training though, she couldn't be as effective as she wanted in the classroom.
"If I kept going, I would've burned out," she said.
Robinson left her teaching job and picked MakerSquare to continue her coding education, partly because she was attracted to the school's outreach programs. She immediately started volunteering with the school's CoderGirls program for Girl Scouts of Central Texas. In the beginning of April, MakerSquare asked her to come on full-time with the Hatch program as director of k-12 curriculum.
The school is also working on putting together a space equipped with logic puzzles and iPads with games that will let kids work on critical thinking exercises while they wait to be picked up after their Hatch lessons end.
For kids and parents who want to check it out, there are free 90-minute workshops on some Saturdays. Check MakerSquare's website or Facebook page for details on the next session.