BY STACY ALEXANDER EVANS
Reporter with Silicon Hills News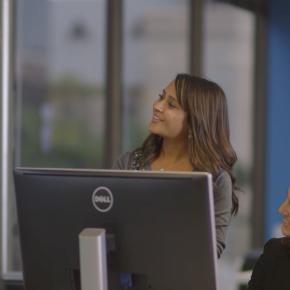 The Lefsetz Letter is no Slashdot or Ars Technica. Yet the blog's founder, Bob Lefsetz—a modern day philosopher of sorts, who proselytizes on everything from popular music to aging—has some compelling thoughts with surprising relevance for the tech world and business. "If you can tell a story," proclaims Lefsetz, "the world is yours."
Enter: Invodo, an Austin startup whose slogan is "We make video work for commerce." Simply put, the company claims that the storytelling possibilities inherent in video, make it an indispensable tool for closing sales online.
Invodo CEO Craig Wax says he agrees with Lefsetz' assertion, and takes it a step further. "Every great business has a story behind it," says Wax, "Consumers choose which brands to trust based on stories. It's hard to tell stories online with just text and pictures, though. That's why video is such a powerfully disruptive force on the Web. In just a few seconds a video can communicate a brand story far more powerfully than a written paragraph, and that is driving every major brand to find new ways to tell stories with online video."
Not surprisingly, like so many other startup leaders who work in the Texas state capital, Wax says Austin is the perfect place for a company that relies on creative capital because of its unusually large talent pool. "This city has producers, directors, on-camera talent, and others who have worked on everything from feature films to industrial videos," enthuses the CEO.
The fact is, last year the Hollywood Reporter ranked the film school at the University of Texas at Austin tenth in nation, and first among schools not located in the New York or Los Angeles areas. Indeed, garnering a reputation throughout the country as the U.S. film community's "third coast," Austin is full of hopefuls striving for recognition as the next Sofia Coppola or Matthew McConaughey. Naturally, these artists often take second jobs in the interim. Invodo is all too happy to reap the harvest.
Actor Lara Shah has done it all: from playing the role of an aspiring entrepreneur in the independent feature film Funemployment to sexing it up in a music video for the Riverboat Gamblers. This past December she appeared in an Invodo production for Dell. "They were super-professional. It was a really efficient shoot," says Shah emphatically. "There wasn't the whole hurry up and wait thing," she says gratefully, referring to shoots that can drag on for 12 or 14 hours, much of it spent waiting around for technical fine-tuning. "It was a positive experience. It was one of those well-run ships."
Regarding client services, Wax acknowledges that client needs are diverse and may range from driving increased sales conversions from their product pages to promoting new product launches or reducing support costs. "Our first priority is always to understand the business goals, so we can build the content and technology strategy to accomplish those goals," says Wax, "deploying the technology in a way that delivers the biggest impact."
One happy customer is Eric Mahlstadt, Director of eCommerce at Golfsmith in Austin. He says a genuine concern for helping customers become better golfers is key to the company's success. With that in mind, bringing the intimate retail customer service they're known for to an online platform was one of the team's primary goals when they considered the integration of video on the Golfsmith website.
"We teamed up with Invodo, and it's been a really great partnership," says Mahlstadt, "because not only do they bring a player which we can customize to the look and feel of our site…but they also help us produce the video from the ground up with the messages that we want to tell about our products…"
So it goes, in business as in art. "After nourishment, shelter and companionship," says novelist Philip Pullman, "stories are the thing we need most in the world."