By SUSAN LAHEY
Reporter with Silicon Hills News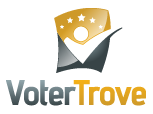 The data machine that helped President Barack Obama win his second term was like a 21st century Trojan horse, crashing in on the Republicans. Way behind in technology, the GOP was completely unprepared for the strategic advantage the Democrats gleaned from collecting, sorting, and analyzing copious amounts of voter data. But if Justin Gargiulo, founder of Voter Trove has anything to say about it, the GOP won't get caught without rich data analysis again.
Gargiulo calls his company "Radical Technology for Conservative Causes." Among his current clients are Congressional candidates Pete Sessions and John McKinney and Texas attorney general candidate Dan Branch.
The Early Adopting Republicans
Voter Trove is a cloud based data management platform that Gargiulo created for conservative campaigns. The computer app allows volunteers to collect information about constituents from numerous sources—voter registration files but also social media and silo lists ranging from church membership directories to files to lists of petition signatories—to create a more complete picture of voters as individuals. That data is automatically integrated with other data streams, like that collected on robocalls, to craft outreach lists for phone calls, social media touches, text messages and email blasts. Currently, the app has a view that's optimized for mobile but it's working on a mobile app.
A political science major from Connecticut, Gargiulo worked as the principal analyst on reapportionment for the state's Senate Republican caucus and also as the lead consultant on the reapportionment effort in 2011. The whole time, he was overseeing digital media efforts for members of the Connecticut State Senate Republican Caucus.
"I know enough code to be dangerous" said Gargiulo, who didn't write the platform but was the one who knew what it needed to be. "I consider myself a technologist and I love it," he said. "I've always been fascinated with platform technology in politics. I wanted to build the next thing to facilitate coordination in voter outreach." He saw the Republicans were lagging behind the Democrats in technology. "It was like, here's this file. Nobody knows what to do with it. The Democrats were doing this micro targeting thing but the Republicans were putting it in the voter vault and nobody did anything with it."
Voter Trove was accepted into the Capital Factory incubator in November and is working toward being part of the accelerator.
Aaron Ginn, the official "Growth Hacker" for the Romney campaign, is also an advisor for Voter Trove. In the tech world, Ginn said, Republicans are a tight knit group.
"The big problem most campaigns are trying to solve right now is understanding how to slice and dice data and upload new data, integrating it across lots of different data platforms," Ginn said. That might include Facebook ads, Eventbrite registrations, voter files and numerous silo lists. "The huge issue in the Romney campaign was getting into what voters think. That requires a very robust data tool. Lots of people are trying to solve different slices of that."
Voter Trove's chief competitor,
Voter Gravity
, has focused on the canvassing and phone bank aspect of that. But that's not the piece that needs solving most, said Brent Buchanan, managing partner of
Cygn.al
, a Voter Trove customer and campaign communication firm with offices in Austin as well as D.C. and Alabama.
Making Data Easy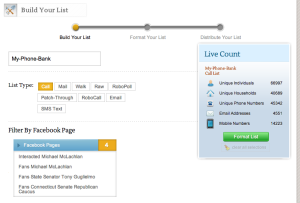 "Justin's platform is the most visually appealing of any we've looked at, and it handles data the best of any we've looked at," he said. Voter Trove looks more like an e-commerce site than a database, he said. It's simple for non-tech people to work with. For example, if a campaign has only budgeted for 5,000 pieces on a given mailer, it's simple to go through the database and add or delete recipients based on characteristics. A counter on the side lets the user know when he's hit the targeted number of recipients. Buchanan said the app tags and lists information in a way that makes it easy for staff and consultants to work with.
Voter Trove recently partnered with Campaign Grid which specializes in online media buying for campaigns. The data Voter Trove collects can identify not just previous voting history but other indicators of preferences. It might identify a group as second amendment supporters or people focused on education. With that information campaigns can target online ads more specifically, which is disruptive in the industry Gargiulo said.
Buchanan's biggest rave about the app, though, is that "When we have an idea, (Justin) goes in and changes it. He makes it happen for us. There's no "you use the system as built.'" Buchanan said. Gargiulo is relying on customer feedback, not theory. "If you build something today it won't be the same thing you need for 2016. He's setting himself up for long term success."