By ANDREW MOORE
Reporter with Silicon Hills News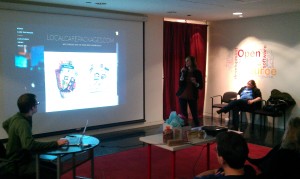 Five startup teams pitched ideas at the latest 3 Day Startup San Antonio event last weekend.
Cristal Glangchai and the Venturelab team ran the event, which was the ninth 3DS San Antonio. Trinity University sponsored the event hosted at Geekdom.
Thirty-five students participated in the 3 Day Startup. They went through all the phases of starting a company, including the idea phase, market validation and research, prototyping, and pitch preparation.
"The event has been really eye opening," said UTSA Sophomore David Barrick. "It's been very hard. We've been shut down a lot by the mentors, but there has been very good feedback and constructive criticism, especially for our group."
Mentors for the event included Cole Wollak, Richard Ortega, Michael Girdley, Pat Condon, Kaoru Fujita, Niraj Kumar, Nick Honegger, and Cristal Glangchai. They worked with each team to refine ideas and perfect pitches right up to the final pitch Sunday night. After giving their final pitch, a panel of Judges including Rackspace founder Dirk Elmendorf questioned each team's presenter. The other panelists included Sweb Development founder Magaly Chocano, UTSA Entrepreneurship professor Anita Leffel, Trinity University Entrepreneurship Professor Luis Martinez, and Pressable founder Vid Luther.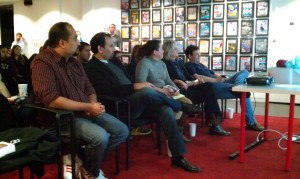 The following five startups presented:
Code Venture
Presented by Trinity freshman Kylie Moden, Code Ventures is creating an iPhone and iPad app that teaches kids how to code at an early age. The app takes a story book approach, and entering the correct coding syntax for each lesson will make the story characters talk or interact. The lessons are designed for kids ages 7 to 12 and will help them take the very first steps into the coding world. The demo shown was programmed to teach Java, but Moden says the app could be easily adapted to other languages.
Code Venture's app will give away the first lesson – or chapter — for free, with additional lessons costing $4.99. They will target the app to parents that are already professionals in high tech jobs, such as those at Rackspace Hosting and USAA. The app will also be marketed to the homeschooling community, which Moden plans to reach by going to homeschooled conventions and conferences.
Code Ventures is looking for a mentor specializing in CS education and a graphic designer.
Seat Check
Seat Check is creating an app based solution to a rather disgusting real world problem: dirty toilets. Trinity accounting graduate Sergio Giralt opened the presentation with a video of a public bathroom user's worst fear – having to clean the toilet seat.
His solution, Seat Check, will use both a disinfectant wipe dispenser and an app which functions like a prepaid card. Using the app's "bump" feature, a user will be able to make a wipe dispense from a machine without having to touch anything else in the restroom. The wipe can then be used to sanitize the toilet and can be flushed after use. The app will cost users 25 cents to 50 cents a wipe, depending on the deal struck with the venue location.
Seat Check plans to market the solution first to Regal Cinemas, but also wants to target restaurants, gas stations, and arenas. The startup is looking for an initial investment of $15,000 and wants to hire someone who can help build the actual product dispenser. The investment will help them move their first prototypes into the movie theaters.
Fashion Connection
Fashion Connection's business model is based on a simple assumption: Men hate to shop. UTSA sophomore Rohit Saxena's solution is to connect male shoppers with fashion experts who can help them shop — either through a video consultation service or connecting the shopper to a fashion connoisseur to walk them through the store.
The online consultation would start at $19.95 for 30 minutes and the connoisseur service would start at $39.95 per shopping session – though the startup did not define how long it would last. It would differ from similar services offered in other stores in that the connoisseur could be available to shop anywhere. Potential connoisseurs would have to upload a fashion profile of themselves to be considered by the startup and would be paid as contractors. The service would start in San Antonio and would begin advertising primarily in local malls.
Fashion Connection is looking for graphic designers and web developers to help them put their service together.
BodyH4X
Presented by Rackspace developer and running enthusiast Gus Ireland, BodyH4X helps athletes know when they are overworking themselves by providing a way to track their body's cortisol levels. Cortisol is a stress related hormone that can make the body covert muscle to fat as a survival mechanism, hindering athletic performance.
Every person has a specific cortisol baseline, and BodyH4X helps runners establish that baseline by using a mouth swab litmus test. After testing their levels, users will record them in the BodyH4X app by utilizing their smartphone's camera to input the swab color and record a level. Additionally, the app will import data from a runner's fitness tracking device, such as FitBit, to compare those levels with the athlete's performance data. Ultimately, this will help athletes determine when they are losing performance to high cortisol levels.
Ireland plans to market the product to runners, bikers, and swimmers. The app will have a free version that tracks cortisol levels along with the performance data and a paid version which will give athletes predictions and warnings about their workout routines. The paid version is $25 a month.
Local Care Package
Local Care Package was started to create a way for distant parents to order packages of San Antonio products for students attending colleges in the city. Presented by Graphic Designer and Marketer Leslie Tolbert, the startup has already begun to form partnerships with various businesses around town to create the packages. Parents can choose from several pre-assembled packages or can select from a list of products. According to Tolbert, it is both a good way for parents to show that they care and a way for local businesses to find new customers. The packages will range in price from $30 to $100.
Local Care Package hopes to partnership with local universities and campus organizations to get their service advertised on flyers and newsletters that go out to parents. They will also work to build a team of drivers in San Antonio. They have already received their first order from parents in Honduras, who they connected with while doing market research.
Of the many startup ideas pitched at the previous eight 3DS San Antonio events, seven companies have gone on to receive a combined total of $2.6 million in funding.
While most 3DS pitches will not result in successful companies, panelist and UTSA entrepreneurship professor Anita Leffel sees the events as critical to producing future entrepreneurs.
"It gives them self-confidence," Leffel said. "That is what I like so much about this type of program, why we did it at UTSA and will now do it every semester. I've watched people blossom."
Pressable founder and panelist Vid Luther sees 3 Day Startup as having an important link to the Geekdom ecosystem, as many of those first 3DS participants still pursue startups at Geekdom.
"You see entrepreneurs over here that, while their ideas may not be the ones that they are pursuing today, they were able to make networks and connections that got them to build and work on the things that they are currently working on," Luther said. "I think long term it's very hard to tell how successful this will be but short term it's a very good networking thing that allows you to do more than just your résumé."
Geekdom is a sponsor of Silicon Hills News