By ANDREW MOORE
Reporter with Silicon Hills News

Despite the 40 degree weather and high wind, two turkeys and the Roosevelt Rough Rider mascot continued to dance to the music in front of Rackspace Hosting's San Antonio headquarters. The normally hot and stuffy mascot suits now failed to keep them warm.
"The thing that kept me warm today is dancing a lot," Rackspace Sr. Manager for Lead Generation and cooked-turkey mascot Stan Slimp said.
But Slimp wasn't the only frozen turkey on the move. Several feet away more than 70 volunteers loaded turkey after turkey into local residents' vehicles along with everything else needed for a complete Thanksgiving meal.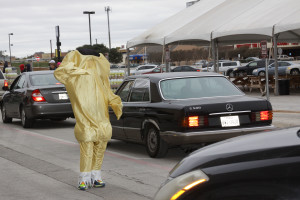 In total,
Rackspace Hosting
purchased 1,500 turkeys for the event. Additionally, 1,500 "Rackers" spent their own money to put together 1,546 boxes of food which included mashed potatoes, rice, beans, green beans, carrots, cranberry sauce and more. The boxes also contained non-Thanksgiving items such as peanut butter, jelly, cereal, and spaghetti for kids to eat over the winter break.
The San Antonio Food Bank
supplied additional soda, chips, fresh produce, and bread for 1,500 families as well as boxes for the Rackers to use. In total, each family received around 100 pounds of food.
"It's part of our culture to give back, to be a neighbor," Rackspace Community Affairs
Specialist Allie Howard said. "One of the reasons that we moved into this side of town and into this neighborhood is because we had an opportunity to make a difference and to elevate this community."
Around 20 Food Bank volunteers and 16 Theodore Roosevelt High School students helped the Rackers load all the produce into each car. More volunteers arrived from the community as well. Some of the Racker's children even drew Thanksgiving pictures to give away to the families.
"It may be hard work, but at least we are able to help the community," Theodore Roosevelt Senior Robert Robledo said. "It's fun to be here, to be helping out someone you don't know."
To distribute vouchers for the food, Rackspace worked with family specialists at seven northeast San Antonio schools in the Walzem area and the San Antonio Food Bank. The vouchers were specifically targeted to families under the poverty line. According to San Antonio Food Bank COO Erika Borrego, one in four children and one in five adults in the Walzem area are classified as "food insecure" — meaning they are often not sure where their next meal will come from. In the local schools which received vouchers, more than 90 percent of students live at or below the poverty line. Without the Rackspace food drive, many residents would not be able to have a Thanksgiving.
"It really helps us out. Otherwise we wouldn't have had anything," resident Karen Kendrick said. "It's going to make a big difference for us because we don't really have any relatives to get together with."
"The way things are right now, as hard as things are, anything that people give you makes you feel good," resident Manuela Munoz said. "This is a lot of love. You gotta love people for them to be out here in this cold weather. It's a blessing."
While giving out food was the main goal of the event, Rackspace also worked hard to create a fun and welcoming atmosphere. For the last two years, Rackspace K-Rack DJ and Private Cloud Evangelist Dale Bracey pumped out dance music to keep residents, and volunteers, upbeat.
"Everybody's dancing. We had people rolling up just dancing in their cars with a smile on their face," Bracey said as his system played Baauer's Harlem Shake. "You kind of get them involved; make them feel part of it."
"It's nice to be able to make people laugh and have a good time and make them feel welcome." Rackspace's Lawrence "Sugar Bear" Reyes said as he greeted residents in his turkey suit. "It is great to see Rackspace leading the charge here for the community, and people volunteering their time left and right to be part of something special."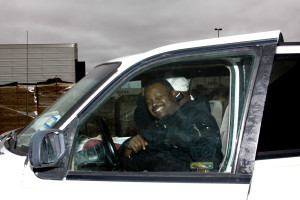 Some residents, such as Marvin Trimble, even got out of their car to join the festivities.
"Bro, I was dancin'!," resident Trimble said. "They made this fun. They made a sad situation – a man needin' some help – fun!"
At the end of the day, the food drive gave out 1,011 complete meals – roughly 50.5 tons of food. The San Antonio Food bank plans to distribute the remaining 239 turkeys and roughly 500 food boxes across San Antonio and the surrounding counties.