By ANDREW MOORE
Reporter with Silicon Hills News
Broadband Internet access is not something new to the tech world. We couldn't live without it, but we may also take it for granted. In fact, 44 percent of Bexar County residents do not have access to broadband and 7.3 percent still use a dial up modem connection according to the latest Esri survey of electronics and internet use.
To bring the Internet to more residents, the San Antonio Public library has created Connect at Central – a 12,800 square foot technology space at the downtown central library where residents can access the web on new desktops, laptops, and tablets with almost no wait time. The city has also upgraded Internet access in 13 other branch libraries so they could handle more computers and Wi-Fi devices.
The improvements were funded by a grant of $1.5 million from the Federal Broadband Technology Opportunity Program, or BTOP, which was part of the 2009 stimulus package designed to bring broadband technology to communities without Internet access. San Antonio has gradually been upgrading their library infrastructure for the last three years. The last piece, Connect at Central, had its official grand opening Thursday.
"We are excited that the library continues to play a role in addressing the digital divide," San Antonio Public Library Director Ramiro S. Salazar said. "As you know, many households cannot afford to provide access to high-speed internet so the library plays an important role in doing that and supporting such things as people registering for the Affordable Care Act."
Mayor Julian Castro says the upgrades are necessary to help San Antonians gain knowledge in the digital age.
"Today libraries are about books but they are also about technology," said Mayor Julian Castro. "And Connect at Central strikes at the heart by providing a full multimedia experience and the possibility for wireless and digital learning here at the central library."
Connect at Central adds a substantial amount of new hardware to the library: 100 new Apple desktops as well as 15 laptops and 20 Google Nexus 7 tablets available for checkout. Those entering the tech space are greeted by a "technology test drive" area where they can get comfortable using tablets and browse 36,000 digital items on a big touch screen referred to as the "overdrive media station." Additionally, the free Wi-Fi has been upgraded to a gigabit connection which the city claims parallels Google Fiber.
The teen services department received 18 new iMac desktops, new furniture, and a "Mediascape" area where teens can display two laptop screens side by side on monitors and easily share files for collaborative learning. The computers are equipped with iMovie and other media programs. Additionally, the computers enable new educational programs such as News Know-How in which journalists from around the country teach teens how to use media and judge news validity.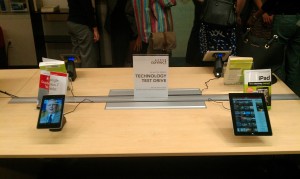 For adult education, the upgraded training center is fully stocked with desktops where the community can access a variety of job training classes. This includes general computer use, writing résumés, gaining interview skills, and preparing for standard college tests like the LSAT or G.R.E. They also teach how to use library databases and give users 1-on-1 assistance finding databases or downloading ebooks. While the library offered some of these services previously, they were formerly in a hands-off lecture format.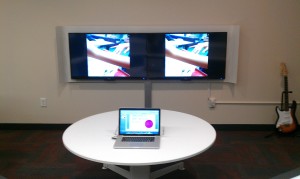 "To me, training is the part that is most exciting," Reference Department Manager Dianna Morganti said. "It's a need we saw in our community."
Learning about new technologies at the library may also be much less intimidating than the local electronics store. Library Assistant Director Kathy Donellan sees the library as a great place to learn new devices because of the comfortable environment.
"One of the great things about the library environment and introducing people to technology is it's a really trusted resource for information. If someone comes in and they have never used a computer before, they feel comfortable asking for help and getting assistance," Donellan said.