By ANDREW MOORE
Reporter with Silicon Hills News
You have probably heard of sports camps, science camps, or math camps — events designed to both spark interest and teach the subject material. But what about kids who like to write code? Up to a year ago, there was no such event geared towards young programmers such as Debi Pfitzenmaier's son Aaron.
As a result, Pfitzenmaier founded the
San Antonio Youth Code Jam
— a three hour event designed to get kids and their parents hooked on coding.
On September 28, Pfitzenmaier held her second annual Code Jam event at
Geekdom
of San Antonio. Eighty kids and 60 parents attended the event and learned about game design, cyber security, and coding in Java and Python. Pfitzenmaier sees the event both as a fun opportunity for existing code enthusiasts and as a way to interest kids who have not been exposed to writing code.
"This gives them an opportunity to see where they fit, what interests them the most," Pfitzenmaier said. "The goal being that they go home and learn more. I'm trying to spark imaginations."
Pfitzenmaier plans to focus the events on middle school students, but kids attending the event could be anywhere from ages 7 to 15. In a special effort to get more girls into coding, Pfitzenmaier reached out to KLRN – the local PBS affiliate – to bring their local SciGirls club to the last event and reserved 25 seats for them. Pfitzenmaier hopes the opportunity will relieve some of the social pressure girls face regarding tech fields.
"My daughter, for example, really likes science. But it's not 'cool' to like science," Pfitzenmaier said. "So it was important for me to, this year, find a way to bring more girls into Code Jam, and get more girls interested in seeing how they can participate in STEM fields and careers."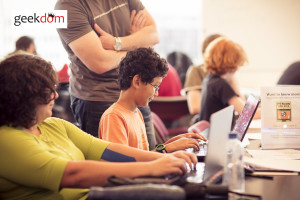 San Antonio Youth Code Jam events take a free spirited, and somewhat chaotic, approach to code education. After the event introduction, kids and their parents could spend as much time as they wanted on each of the five different learning stations around Geekdom. A team of 45 volunteers from Denim Group, the U.S. Air Force, the University of Texas at San Antonio and other organizations helped teach kids at each station.
E-Line Media Learning Content Producer Katya Hott came all the way from New York to volunteer at the Gamestar Mechanic station. Gamestar Mechanic is an E-Line Media program that lets kids create 2-D games by manipulating characters on a grid, creating game levels, and giving their characters obstacles to face. While the program did not require actual lines of code, Hott wants to inspire the kids to one day make their own games and programs.
"Giving youth the opportunity to explore coding and programming as something they can study for a career path or extracurricular interest is really important," Hott said. "Not every city has ready opportunities for kids to try out game design or try out programming in other settings to see if they like it."
Some of the other stations had kids writing Java and Python. To get their feet wet in Java, kids could try out the Code Spells station. In this game, the user helps out friendly digital gnomes by making their wizard cast different spells with lines of Java Code. Denim Group CTO Dan Cornell, who volunteered at the station, was impressed at how quickly the kids learned the fundamentals of coding.
"The most important thing to take away is learning how programs are structured – a type of algorithmic thinking to solve problems," Cornell said. "From my perspective, working with the kids, it was interesting to see how quickly they learned."
Cornell hopes that teaching kids the basics will inspire them to develop a passion for coding.
"The people who are really good in the technology industry are the ones that are always forcing themselves to learn more because they are interested in it, because it speaks to something in them at a fundamental level to be able to build things and solve problems," Cornell said.
To round out the experience, Air Force volunteers taught the kids about cyber security. Their station covered password strength, Facebook safety, e-mail fraud, and mobile device safety. To reinforce the material, kids took quizzes on a website that tested their knowledge of security threats in several different scenarios. A perfect score would get their name up on the wall, and Cyber Security Station Lead Sean Williams was surprised at the dedication the kids showed to get those perfect scores.
"They kept taking it over and over again until they understood what was going on and kept asking questions and stuff," Williams said. "That made me feel like it sunk in and was worth it."
While the Code Jam events are aimed at a youth age level, Pfitzenmaier says the event is about the parents just as much as the kids.
"What makes Code Jam very distinctive is the parents have to stay with their children," Pfitzenmaier said. "What you will see is parents sitting side by side with their children, learning right along with them."
Pfitzenmaier says that she wants the event to be a welcoming place for children who are introverted or have social anxiety issues to learn around other kids. Parents stay with the kids for the whole three hours, giving them a safety net in a somewhat chaotic social situation. It's also a great place for parents to bond and learn with their kids over an exciting activity — especially if the parents write code as well.
"It gives the parents an opportunity to show their kids, 'this is what I do all day long. And it's fun!'" Pfitzenmaier said. "For the parents to sit there and engage in something that their kids enjoy – that's huge."
Pfitzenmaier will hold the San Antonio Youth Code Jam again next year and is currently looking at ways to create similar events in the coming months.
Full disclosure: Geekdom was a sponsor of Silicon Hills News