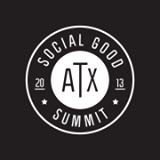 The second annual Social Good Summit Austin takes place on Sept. 24th at the Austin Community College Eastview Campus at 3401 Webberville Road.
The event runs from 1:30 p.m. to 7:00 p.m.
The keynote speakers include Mina Chang, president of Linking the World, Carl Dorvil, founder and CEO of Group Excellence, Michael Cress, Chairman of Rachel's Challenge and MollyBeth Malcolm, special assistant to the president at Austin Community College.
Its theme is "Me to the Power of (We)" that translates into empowering people to make social change.
Mashable's Social Good Summit, which takes place Sept. 22-24 in New York during United Nations Week, inspired Ruben Cantu, Elijah May and Stephen Vogelpohl, the founders of Austin's event, to start a local annual conference focused on technology, media and social change.
The organizers are currently running a CrowdTilt crowdfunding campaign to raise funds to giveaway to people with great ideas for social change at the event. By contributing to the campaign, you can get a ticket to the event. Then at the event, the crowd decides who gets the money from "The Social Innovators Fund." So far they have raised $3,265 from 39 contributors of a $5,000 goal with ten days left.
"The whole purpose of the fund is to democratize social good," said Cantu, the event's executive director. "The event is free but if you want voting rights then contribute to the cause. You don't have to give any money, you can still show up, but you can't vote."
Participants can get voting rights by contributing as little as $5 or as much as they want, Cantu said.
In addition to speakers, the Social Good Summit features a fastpitch competition showcasing local social entrepreneurs who are working to change the world. Six teams will give three-minute pitches during the event. Then the crowd gets to vote on which team gets the social innovators fund money.
The six teams pitching include Cameron Gibson with Dollar a Day, Joshua Jake Vaughn with Connect2Good, Carl Settles with E4Youth, Jose Briones, Frugal Innovations, David Schwartz, NGO and Social Enterprise Hub and Jessica Lowry, Key to the Street.
Last year, more than 140 people attended the event. This year, Cantu expects from 150 people to 200 people.