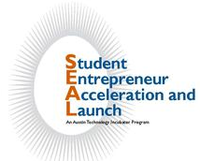 The Austin Technology Incubator's summer-long Student Entrepreneur Acceleration & Launch, known as ATI SEAL, culminates next Thursday with a Decision Day event.
The event, on Sept. 5th, kicks off at 6:30 p.m. and runs until 8:30 p.m. at the Blanton Museum at 200 E. MLK Blvd. It features nine student-run companies showcasing their startups.
The public is invited. Please register for the free event here.
During the ATI SEAL Program, the startups decide whether to continue to pursue their startup ideas or to kill them. This is the sixth class to go through the program. To date, more than 30 companies and more than 100 students have participated in SEAL.
Among the success stories is Ordoro, a member of the 2010 SEAL class, which has since raised nearly $2 million in funding and works with Amazon, BigCommerce, eBay and others.
The 2013 ATI SEAL class includes:
AdBm Technologies: Developing high-performance, low-cost, and easy to deploy noise abatement technologies for marine environments.
OnSite Control: Providing portable wildlife access control solutions with a focus on the oil & gas industry.
Beyonic: Aggregating mobile payment networks to allow businesses to connect in emerging markets.
Clay.io: A platform for HTML5 games-helping developers distribute and improve their games with high-level social features, and helping consumers discover great cross-platform games.
Favor: Anything you want delivered in Austin
Guava: The fitness coach for the personal finances of the American worker.
nCarbon: Commercializing the novel material graphene to focus on the development of the next generation super capacitors.
Intelligent Menu: Offering consumers an intelligent way to dine, while also allowing restaurants to understand and connect with their customers to make data-driven decisions.
LifeM: Making highly flexible pressure sensors for cardiovascular
applications to revolutionize the catheter pressure sensing industry.