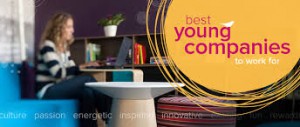 Turnstone, a Steelcase brand that helps small and emerging companies create great workspaces, has launched a project to find the "Best Young Companies to Work For."
The campaign kicked off last week "and is designed to recognize young businesses that demonstrate excellence in areas like talent retention, positive work culture, forward-thinking leadership, business innovation, community outreach, workplace wellness, effective space planning and design, etc.," according to Turnstone.
Turnstone is seeking nominations from the Austin and San Antonio technology community. Anyone can nominate a company, but the companies have to be younger than 10 years old and have fewer than 100 employees and they cannot nominate themselves.
The contest is open through August 23rd for nominations. After that, a panel of judges will select the Best Young Companies to Work For.