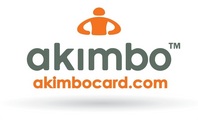 Akimbo Financial wants to change the way people pay for things.
The three year old company, which recently moved from Austin to San Antonio, has created a prepaid card that connects to a digital wallet and allows people to easily share money with others.
Akimbo recently closed on $850,000 of a $3 million Series A round led by Graham Weston, co-founder and chairman of Rackspace Hosting, Tom C. Frost Jr., former CEO and Chairman Emeritus of Cullen/Frost Bankers Inc. and Akimbo co-founder Tom O. Turner.
Akimbo plans to use the money for marketing and customer acquisition.
"This investment will help us meet the growing demand for our product after its official launch a few months ago, in addition to helping us ramp up unprecedented company growth in the coming months," Akimbo co-founder and CEO Houston Frost said in a news release.
Founded in 2010, Akimbo has raised $2.15 million to date.
Akimob offers the Akimbo Visa Prepaid Card that can be loaded from a bank account, via direct deposit or with cash at various retail locations. The Akimbo card can used at ATMs nationwide and users can send money via email, Facebook and SMS.