BY SUSAN LAHEY
Silicon Hills News Reporter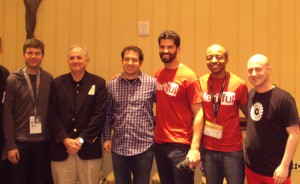 The pitch was: Move your company to Austin for free. Five companies in other parts of the country or the world competed for a $100,000 package that included:
• A $35,000 investment from CTAN.
• Three months rent in a 3 bedroom house from HomeAway.
• Six months of co-working at Capital Factory , server hosting from Rackspace and local groceries from Greenling.
• Moving services from uShip
• Two badges for SXSW 2014
The winner, and welcome to Austin, was a company called Meritful. Meritful is like LinkedIn for college students. Students load their information on the site for free and companies—who are finding the cost of recruiting increasingly prohibitive–can find candidates on the site. Meritful allows students to interact with professionals, share their projects, build a resume and seek advice and direction and allows companies to check out prospective future employees. For companies, the cost is related to their size. A business of up to 100 employees would pay $5,000 annually, which founder and CEO Azarias Reda pointed out is roughly the cost of an intern and significantly less than companies spend recruiting currently.
Meritful will be moving from Ann Arbor, Michigan, where Reda met his cofounders in graduate school. They learned about the competition from Josh Baer of Capital Factory and AngelList and the team drove 20 hours to get to SXSW.
The competition's runner up was Pictrition, an app that lets consumers keep track of their nutrition just by taking photos of their food and submitting the photo to the Pictrition community rather than logging food items, calories or nutrition points. Pictrition includes competitions, leaderboards and reward coupons from health-oriented companies including Whole Foods. The company takes a percentage of each reward based purchase. The company is also working on corporate wellness programs. Pictrition currently is in Dallas.
Other competitors included Paceable, a CRM and project management tool that works with Gmail, Rock Your Paper, a company from Bangalore, India that wants to be the iTunes store for scholarly papers, saving researchers and institutions such as universities, from having to purchase whole journals, and Inaika.com which provides services to find instructors of all stripes through videos published by the instructors but also allows fans to subscribe to the videos of instructors all over the world they find inspirational.
Judges for the competition include Jason Cohen of WPEngine: Bril Flint, chairman and Rick Timmins, Director of CTAN; and Bill Boebel, formerly of RackSpace and now an angel investor and managing director of Capital Factory.