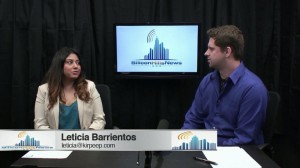 Kirpeep's Leticia Barrientos, vice president of outreach, talks with Slice of Silicon Hills Host Andrew Moore about the startup's plans for South by Southwest this weekend.
The company, based at Geekdom, is having a swag challenge at SXSW. More than 5,000 people signed up for the challenge, which quickly sold out, Barrientos said. They have established a waitlist. To find out more, the startup will based at Free Lunch Friday's Rig at SXSW at 604 East 7th Street in Austin.
Kirpeep is an online marketplace that allows people to exchange, buy or sell goods and services. For more on the company, please read this profile on the company.
Disclosure: Kirpeep is an advertiser with Silicon Hills News. And Geekdom is a sponsor.