BY LAURA LOREK
Founder of Silicon Hills News
Just in time for South by Southwest, there is a new way to network with a digital business card called Icon.
Icon is the brainchild of Kent Savage and Matt Hovis, technology startup veterans in Austin, who grew tired of having wads of crumpled business cards at the bottom of their briefcases after a business trip.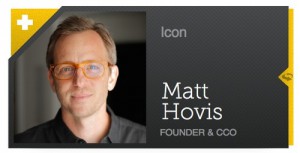 In the digital age, they thought there had to be a better way to network. So they created one that provides a slick digital image with critical contact information along with all of a person's social streams.
Icon helps establish and package an individual's brand just like Coke and Pepsi and Miller Lite brand their beverages. Last week, Savage and Hovis took time out of their busy schedules to answer a few questions about their new startup.
Q. What is Icon?
A. Matt: It is a digital business card system. We
think of it as a wicked smart one. It does some things beyond sharing our contact information. Instead of going through a briefcase and digging for paper business cards, we created a system that allows us to have it on our smartphone so it's with us wherever we go. At its simplest form it's a wicked smart business card with a rich dynamic profile.
Kent: Think of it as turbo-charging your LinkedIn page and your Twitter feed. It provides a shareable view of who you are as an individual.
Q. What problem are you trying to solve?
A. Matt: It's the whole art of engagement. What it takes to make a great first impression and present your brand. Companies hire advertising agencies to build their brand. We, as professionals in this increasingly self-serve digital landscape, need to take our personal brand seriously and we need the tools to build our own network and brand in the industry. Crafty people have found ways to do that on their own through e-cards, email signatures and their own Web pages. Building a complete turnkey system is hard, but Icon makes it easy.
Q. Why are you two the best people to tackle this problem?
A. Kent: I've been part of multiple startups since 1996 in Austin from sales and marketing to CEO. I know what it takes to build businesses and build brands. How best to engage in the form of email. Matt has been on the digital production and creative agency side building brands for clients. We put our heart and soul and capital into making Icon the best it can be.
Matt: We think of this as personal brand building. We're professional brands. Those of us who do a better job of managing our brand do better in business. We think about making consistent good impressions across all of our touchpoints. We don't think there's a good tool out there like this.
Q. What's wrong with paper business cards?
A. Kent: We kind of galvanize our whole business around the business card. We thought things had gotten kind of sloppy around the art of engagement. We love business cards but they are obsolete in the way we exchange information today. With a smartphone, I can share my Icon with you. I can send you my digital business card mobile to mobile right there on the spot. I can be invited into your contact network. I don't lose that spontaneity.
Matt: At the bottom of my briefcase is a crumpled wad of business cards.
Q. How do you plan to acquire customers?
A. Kent: SXSW is right around the corner and this is really your survival kit. You'd be crazy to show up at SXSW without an Icon. It's purely coincidental with when we are launching Icon. By doing a good job with our customers we expect to spread the word about Icon. We launched a private Beta starting Jan. 1st. Some of those featured Icons are in our gallery. By virtue of what Icon is and how it gets used there is a viral loop that occurs. You can add it to your phone. When someone receives it via text or email there is a button to sign up for Icon. And then secondly, there is simply a way to add this as your email signature. We've created this container of your personal content in the form of your Icon that recipients will be compelled to click on. We think by building a great product and service and by satisfying customers, we will grow. We literally turned on our Icon Pro version today that provides users the ability to brand their Icon with their businesses colors and logo and also provides you with your very own analytics telling you who is viewing, sharing and downloading your contact information and content. So now businesses can provide their employees with Icons rather than business cards. Icons are more affordable, always up to date and you never run out. So that's how Icon will be adopted.
Q. How does it work?
A. Kent: You can share your Icon through the web, email, in person or via mobile. With our optimized mobile you can have your Icon on any smartphone platform. You can send your Icon via SMS or to an email address.
Matt: This brings back that dignity that business cards once had. They represented you. They formed an important barrier.
Q. How did you come up with idea?
Kent: It really just goes back to our experiences of trying to get our arms around multiple points of engagement. I have all these different contact points and social media properties. I have friends and family members on Facebook and then my LinkedIn, which is really nothing more than my resume, and then Twitter came on the scene as a celebrity and news outlet. I had my business card, mobile phone number and business addresses. We created a better way to organize all of these contact points and present yourself in the art of doing business across all of the ways we communicate in business. We also created Icon pro that allows you to brand with your color scheme and it comes with your own personal analytics dashboard to provide a command center so you can see who is viewing, sharing your Icon as well as downloading your contact information. We also aggregate across all your social media friends, followers and connections to let you gauge your reach and brand power.
Q. How does Icon make money?
A. Kent: It's a freemium model. We have a totally functional solution that is free with Icon. Then we offer the Icon Pro version that is $4.99 per month. You can upgrade or downgrade. We also will be unveiling our Icon business for enterprises.
Q. Why did Icon launch in Austin?
A. Kent: Because it's our home. We created our livelihood and we live our lifestyle and we're committed to Austin. We've been here since 1996 building digital centric business and we didn't have to go to Silicon Valley to make that happen. I was at a venture summit at Silicon Valley in December and you'd be amazed at how many of those people were talking about moving to Austin.
Matt: It's ended up being an ideal place to grow a business like this. It's sort of an ideal place we've ended up in.
Kent: We are also seeing the blending of Austin and San Antonio by connecting not only for lifestyle but also through economic development and business. It's like what I saw with the telecom corridor in the '80s and early '90s in Dallas and Richardson, which provided a huge economic boost to the DFW area. We're going to see similar opportunity through economic development efforts here.
Q. Who's your competition?
A. Matt: Maybe the traditional business card. The way we've combined some critical components in a digital form. We don't see there's a lot competition looking to solve the problems.
Q. How is Icon financed?
A. Kent: It's privately finance by angels – high networth angels. We initially raised $500,000 and as part of this launch we will start series A discussions.
Q. What are your plans for the company during the next year and the next few years?
A. Matt: We've got a defined roadmap of features we'd like to get started on. We charted several of those. Likely develop a mobile app version as well. Learning from customers initial use. We've got some dials to use. Look at the way Icon users integrate the product into their lives.
Q. Who makes up your team?
A. Kent: Matt and I are the co-founders. Then we have a great group of product development and strategists that work along side with us to put the dedication and brainpower into making Icon what you see today.
Q. What's your favorite local startup resource?

A. Kent: My boat dock. That's where Matt and I brainstorm these ideas. Matt: The espresso trailer: Patika that's helped fuel these ideas.
Q. Where can I get my own Icon?
A. Go to Icon.me to create your own wicked-smart digital business card.