Got a story to tell?
Mike Davis wants to help you tell it. He's the founder and CEO of StoryPress, an Austin-based startup which recently launched an iPad and web application to help people create stories about their life experiences and save them for future generations.
Davis was formerly involved with another application called "Guardian Trace." He recently answered these questions about his new venture.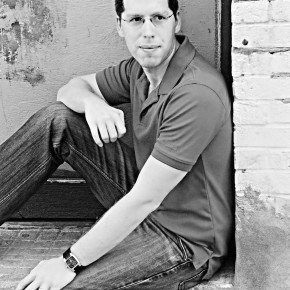 Q. What is Storypress?
A. StoryPress is a story creating, saving and sharing application. You can either tell StoryPress a story or have the application interview you. After answering the questions, the app combines all of your answers into an audio-book and saves it on our cloud. Your story can now be shared as easily as a YouTube video.
The interview packets are like "sheet music" for an instrument. They allow you to start off on simple topics and work your way up to longer and deeper stories. As we release more interview packets, people can return to StoryPress to talk about different elements of their lives and experiences.
Q. How did you come up with idea?
A. My grandma who is 84 years old asked me to recommend an iPad app that could record her voice. When I asked why, she explained it was because she had all these stories and memories she wanted to save so the rest of us could remember them and pass them along.
After some research I realized there are many recording applications, but they are all cold and intimidating…not designed for a memoir but a grocery list. So I decided to create one, not only with the right interface for this genre but with interview packets to help them get started and a private cloud for story saving and sharing.
When you complete your story, all you have to do is hit upload and with one click your story is now in the cloud and as easy to share as a YouTube video.
Q. Who's your competition?
A. There are many services to capture personal and family stories but they are typically expensive and involve hiring a crew to come to your home for the interview. In terms of a completed automated software solution for this market, there is no competition I'm aware of.
Q. What are your plans for the company during the next year and the next few years?
A. The primary goal of 2013 is to roll out our minimal viable product and learn as much as we can. In the 3 weeks since we've launched we've hit 3000 downloads and have made top 25 status for lifestyle apps in several countries, so we are confident that there is a genuine interest in what we are doing. The next step is find our super users (early adopters) and get to know them like the back of our hand. Their insights into how to make the product better are critical as well as their enthusiasm to take later versions of our product to mass market and turn an idea into a movement.
From a technical stand point we would like StoryPress to be on more platforms than just iPad and improve the ways we use pictures in the story telling process.
Q. Who makes up your team?
A. At the time of this writing I'm currently the only full time employee, the rest of our team is made up of local contractors including iOS, server programming and user-interface designers. I am putting together an advisory board with some seasoned personal including former executives from Ancestry.com and Audible.
I am currently looking to expand the executive team and surround myself with like minded creative individuals who can help take StoryPress to the next level.
Q. How is StoryPress financed?
A. It is mostly self financed but we did have some help from family and friends
Q. How does StoryPress make money?
A. At the moment the application is completely free but in time we hope to make money by charging for the cloud storage of peoples stories and for selling users additional interview packets on 100's of categories and languages.
There is also the potential for us to turn peoples stories into physical CD's they can buy from us or a movie montage.
Q. Anything else you want to make a point of that we haven't asked you about?
A. Genealogy is widely believed to be the 2nd largest hobby in America behind Gardening and with the 55+ demographic growing faster than any demographic in our country, I believe that StoryPress is primed for exponential growth as the "niche" of family history may be the largest and most lucrative demographic in the country.
Q. What are your favorite startup resources?
A. Books including:
o Start with Why
o The Lean Startup
o From Good to Great