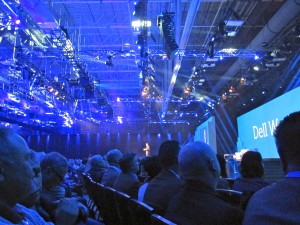 In a packed Austin Convention Center ballroom, the lights dim and a video plays.
"In 1984, Dell was one guy with a dream," says the narrator.
In the last 28 years, Dell has evolved into a $58 billion company with 109,000 employees worldwide. And in the last four years, Dell has pushed to transform itself from a PC maker into a software, services, solutions and hardware company. In the process, it has diversified into new areas like data centers.
"While much has changed in that transformation, much has stayed the same," the video announcer proclaims.
Michael Dell enters the stage. He's been actively involved in Dell since he founded the company in his dorm room at the University of Texas. He has articulated the company's vision and worked to change its culture through organic growth and acquisitions. He's fired executives, hired new ones, acquired new businesses and shifted the company's focus from PCs to solutions.
"This is an incredibly powerful moment for me," Dell tells the audience of more than 5,000 customers, partners, employees, analysts and media. He is delivering the keynote address at the second annual Dell World event. "I'm so proud of what you've accomplished with Dell at your side."
Then Dell shows a video of a rover landing on Mars, exploration at the South Pole, Genomics research and more. Dell's customers have used its products to solve some of the universe's most vexing problems.
"From the beginning Dell has been out to power your dreams," Dell said.
Some of its customers achievements are on display at the Dell World Expo. The showcase has examples of Dell's customers using its products in a variety of industries. Dell is working on cloud, data center and security solutions for customers and much more.
"We're working to democratize and simplify these innovations," Dell said.
A major focus is securing all the devices in a "Bring Your Own Device" environment at companies. It's all part of Dell's focus to become the industry's leading provider of end to end solutions. The company spent $5 billion in the last year to build out its solutions portfolio. But the PC business, or what it refers to as the "client" business, continues to contribute to its bottom line.
"We strongly believe PCs are important," Dell said. "Overwhelmingly PCs are still how business gets done today."
Microsoft's new operating system, Windows 8, also brings together PCs with touch screen technology creating more dynamic computing devices. Dell's Latitude 10 tablets run Windows 8 along with Dell's XPS 12 Notebook, which transforms from a laptop into a tablet. In addition, Dell just introduced an all in one portable workstation and entertainment center that also runs on Windows 8.
"The possibilities are limitless," Dell said.
Windows 8 gives the 1.5 billion installed base of PCs worldwide a reason to get a new PC, Dell said.
Dell is also pushing big into the data center industry. It has been in the server business for more than two decades. Dell is number one in North America and Asia in the server market and is only 64,000 servers away from being number one in the world, Dell said.
Dell's open standards have made it easy to integrate its products into existing data centers. Its software really helps to secure and manage customers' environments, he said.
"The consistency of our vision and strategy is paying off big time," Dell said.
The final piece of Dell's strategy is the services industry, which now employs 47,000 of its workers.
"We're ready to help you achieve your objectives," Dell said.
The company manages 32 billion in security incidences every day.
"We know about what's going on in the world of cyber security more than anyone," Dell said.
In the healthcare industry, Dell manages 114 million mission critical devices. Dell also prides itself on its customer support and gives a response time of two to four hours, Dell said.