"We wanted to put entrepreneurs and geeks together and watch the sparks fly," said Weston, chairman and founder of Rackspace and co-founder of Geekdom.
"It way exceeded our expectations," Weston said.
Geekdom is now the state's largest co-working space and technology incubator with 500 members occupying 45,000 square feet at the Weston Centre downtown.
"We're adding 40 members a month every month," Weston said. "We look forward to doubling again next year."
On Wednesday, hundreds of people turned out to celebrate Geekdom's one-year anniversary at the Weston Centre downtown. The Spazmatics band entertained the crowd along with Comedian Steve Trevino. At the party, Geekdom showed off its new Geekbus, which SparkEd's Louie Pacilli heads up. Starting in January, he will visit area schools three times a week in the bus to teach technology skills. Geekdom also provided tours of the co-working site. And rides on a mechanical bull.
In just a year, Geekdom has helped more than 50 startup companies.
"We really think Geekdom can create a heartbeat for the technology community in San Antonio," Weston said. "So many people believed that Geekdom wouldn't work in San Antonio. Little did we know there was so much pent up demand for a place for the geek community to come together to rally around."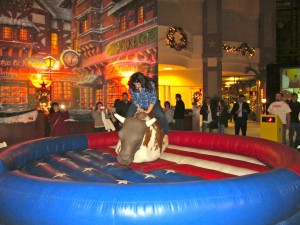 Geekdom has become the place where technology entrepreneurs connect and collaborate, said Nick Longo, mentor-in-chief, cofounder and executive director of Geekdom. He joked that he started the site so he could live vicariously through the startups and founders.

"In my mind, I've done 200 startups," Longo said. "It hasn't cost me a dime. I don't have to guess about the future. I have a bright outlook that I'm going to succeed."

In reality, Longo has helped mentor dozens of companies at Geekdom during its first year. He's also volunteered at 3 Day Startup and he has spent countless hours consulting with startup founders. Geekdom has held more than 220 tech events and programs so far including SparkEd, a weekend program which teaches at-risk middle school students how to build a robot, program it, build a business and a website.

Geekdom also recently created a video and sound studio on its 10th floor. It also has a 3-D printer and other equipment in its Makers Lab focused on robotics and circuit work on the 11th floor. And early next year, Geekdom will open the Open Cloud Academy on the 6th floor to train and certify military veterans and the public to become system administrators.

Geekdom is a magnet that's drawing people from all over the state interested in

technology and startups, said Shelly Brenckman, marketing director for Startup Aggieland. She drove from College Station with four Texas A&M students for the Geekdom party. They spent the night at the Hyatt Regency on the Riverwalk. The trip was all worth it because the students got to meet and talk with Weston, a graduate of Texas A&M and highly successful businessman, and visit Geekdom, Brenckman said.

"Everything we've done at Aggieland Startup, we've modeled after what Geekdom has done," Brenckman said.

Weston is changing the landscape of Texas technology and education, Brenckman said.

"I don't think people realize how much Graham is doing to help Texas," she said.

Geekdom has also expanded to San Francisco and will open that site in April, Longo said. And it's eyeing expansion into Asia, South America and Europe.

"We're considering other cities as well," Weston said. "I think the exciting thing is that so many people have heard the name Geekdom and they know just a little about it. Yet it resonates so quickly they want to be a part of it."

Other cities have approached Weston about establishing a Geekdom in their communities.

"It's really the pioneer of open ideas," Weston said. "Everyone is working on different things but everyone around you at Geekdom wants you to succeed. They will take the time to help you."

Geekdom is about going from an idea to a fundable startup, Weston said. To support that, Geekdom offers a fund, which invests $25,000 in startups. Every month, a board meets to review the applications and interview the entrepreneurs.

"A number of companies that have been started are from former Rackers," Weston said. "Geekdom has been part of helping them realize their entrepreneurial dream."

The Geekdom process has happened naturally, Weston said. It's a supportive, collaborative environment and company founders can learn and grow with the help of seasoned mentors. The entrepreneurial process is not easy, but it can be rewarding.

"It's exciting to be in charge of your destiny," Weston said.

ZippyKid's CEO and Founder Vid Luther would agree with that statement. He moved his company into Geekdom when it opened. He had five employees. Today, he has 10 employees.

"It's just a cool working space from ZippyKid's perspective," Luther said.

For the community, Geekdom has served as a catalyst to bring together the city's technology industry and to put a spotlight on all that's going on here.

"A lot of people didn't realize how much technology talent was here until Geekdom," Luther said. "I think Geekdom is a movement and people will remember this as what made San Antonio show up on the nation's technology map. This is just a start."

Paul Ford, vice president at Soft Layer, agreed.

"This is the new style of doing business and Geekdom has been at the forefront of the technology movement in San Antonio," Ford said. "It's remarkable what they accomplished in a year."

Rebecca Schenker, an architect with a self-described geeky side, joined Geekdom last Spring because she liked the community.

"I like the idea of having a place where you can be a part of something bigger," she said. "It's fun and it's educational."

Jon Dobbertin and Dan Garcia, two of the co-founders of CallGrader, which just completed the DreamIt incubator program in Atlanta attended the party and credited Geekdom for helping the company get off the ground.

"For us, Geekdom was the starting point," Dobbertin said. "We moved in last December and we were one of the first companies based there. It helped us immensely. It's definitely a great catalyst."

Being around other startups and like-minded people helped a lot, Garcia said.

Monk's Toolbox, a software start which automates the back end of breweries, just recently moved into Geekdom following its formation at 3 Day Startup.

"Geekdom's about mentorship, collaboration and camaraderie," said Zac Harris, Chief Monk. "It's probably one of the best things to happen in my career trajectory. It's a breath of fresh air for San Antonio."

Geekdom is a sponsor of Silicon Hills News

A year ago, Graham Weston and Nick Longo created Geekdom to build a startup community in San Antonio.