BY RANDY LANKFORD
Reporter with Silicon Hills News
Dr. Cameron Powell, a San Antonio obstetrician, likes to joke about the only time he was ever propositioned in a church parking lot. When Trey Moore, a software developer, invited him to have coffee in 2004 Powell assumed it was to talk about a doctor for his wife.
But Moore wasn't concerned with just one baby. He wanted to talk about thousands.
Referring to the cutting-edge mobile technology of the day, a PalmPilot, Moore asked, "If you could see any information on a device like this, that would transform the way you practice medicine for yourself and for your patients, what would it be?"
Powell had a ready answer.
"I'm never just sitting at the mom's bedside while she's in labor. I'm seeing patients, I'm scrubbing up, I'm in surgery, I could be in my office, I could be anywhere. And I generally rely on the nurse to relay to me the condition of the mother verbally; just describe what's happening with the baby's heart tracing and the mother's contraction patterns. If I could see that waveform data on a device like that in real-time that would change everything."
And it has.
Fast forward 18 months from that initial meeting and Powell and Moore were keynote speakers at Apple's Worldwide Developers Conference, explaining their new way in which doctors could monitor patients' conditions from anywhere in the world.
Today, the company Moore and Powell founded, Airstrip Technologies, serves thousands of patients in hundreds of hospitals with its AppPoint software platform, securely sending patient information directly from hospital monitoring systems, bedside devices and electronic health records to a clinician's mobile device.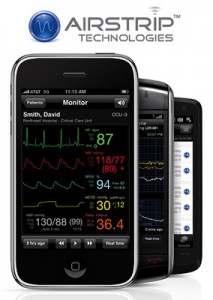 Airstrip's development platform enables the creation of device-neutral applications able to scale and adapt to an ever-changing world of mobile operating systems and hardware. FDA-cleared, CE-marked and allowing for compliance with HIPAA regulations, the AirStrip platform delivers live waveform and other relevant clinical data, not just to obstetricians, but to healthcare professionals in numerous fields such as cardiology, telemetry, home healthcare and geriatrics.
"The OB application is the proof of concept for the broader suite of what we do," explains the company's Chief Strategy Officer Bruce Brandes. "In fact, one in six babies born in the U.S. today is protected by AirStrip OB."
Most of that meteoric growth has taken place since the introduction of Apple's iPhone in 2009. "We had a handful of customers," says Brandes, "but when the iPhone came out and opened up Apple's Software Developer's Toolkit, Trey saw that and shifted all the development from Windows to the iPhone. 'This is the future of mobility,' he said, 'this device.' That's when we really started to scale in earnest."
AirStrip has not only increased its size, according to Brandes, it's also expanded its scope.
"We're expanding the platform to include all the other elements of data a physician or team of physicians needs to see. Not only when they're within the hospital but increasingly, as the reimbursement model of healthcare shifts from yesterday's that's based on an episode of care to today, where it's based on clinical outcomes and ultimately to tomorrow, when it will be based on population health from chronic diseases, you're going to see a shift in the use of our application.
"AirStrip will be of use not only in the hospital but across the entire continuum of care, so that we're mobilizing data pre-hospital, before the patient ever arrives, in the ambulance for example, all the way through monitoring those patients who are at high risk in their homes so we can proactively intervene before an event happens that sends them to the hospital."
Dr. Jane Atkerson, a San Antonio physician who has seen AirStrip work at the Baptist Health System, says she wouldn't want to be without it. "I've been an AirStrip user since it started. The speed at which the screens upload, going seamlessly between data and tracings, is wonderful. I've made it part of my everyday care for my patients in labor."
Brandes sees a day when mobile technology will render distance irrelevant in patient care.
"We're riding the coattails of this mobility revolution. What we're uniquely focused on doing is riding that revolution to specifically leverage mobility to address the challenges healthcare's always faced that have never been able to solve because it took a transformational technology like mobility to change the way in which things work.
"We like to say our technology essentially eliminates all the traditional geographical boundaries that have historically restricted healthcare. You could have a cardiologist in New York City consulting on a patient in rural West Virginia. It could be someone in a remote area of Africa. And we're seeing that today. Our clients are using this now."
And it all started with a cup of coffee.