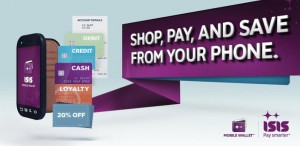 Ready to leave your wallet or purse at home?
Soon smartphone customers in Austin and Salt Lake City, Utah will get that opportunity when the Isis Mobile Wallet launches in a test market trail on Monday, Oct. 22. It is currently available in the Google Play marketplace.
The Isis Mobile Wallet puts everything that people carry around with them in their wallets on their mobile phone. The program is available right now by invitation with general availability beginning Oct. 22 in Austin and Salt Lake City.
Isis is a joint venture between AT&T Mobility, T-Mobile USA and Verizon Wireless. The app will be available on a variety of NFC-enabled smartphone mobile devices by HTC< Motorola, RIM, Samsung Mobile and Sony Ericsson. Wired Magazine reports that it can't find a phone that the Isis Mobile Wallet works on yet.
The Isis app allows consumers to "securely make payments, store and present loyalty cards and redeem offers at participating merchants with the tap of their phones," according to Isis. It will store your existing credit cards including American Express, Chase and Capital One on the phone. Or consumers can use free Isis Cash card.
"Seamlessly transmit your payment info, loyalty and offers at checkout with just one tap at Isis Ready SmartTap merchants," according to Isis. "No more fumbling through your wallet or purse."
The Isis Mobile Wallet is PIN protected and has the same protections against fraud that physical credit cards have and can be frozen with one call to T-Mobile if it's lost or stolen.