By SUSAN LAHEY
Reporter with Silicon Hills News
Nearly 200 people showed up for the co-founders meetup at Austin Capital Factory Monday night to kickoff Austin startup week, with almost twice that many coming to the official kickoff party. Among the startups presenting were PredictMyPlace, an app that lets fans predict the outcome of sporting events, Shop Sosho, which helps people find items they're looking for and Sandbox Ideas which uses facial recognition technology to help people network more effectively.

Jacqueline Hughes, who cofounded the event with Josh Baer last year, said the objective of the event was simply to bring more startups to Austin. The pair did not raise money for the event this year, but did so this year, helping them pay for supplies and enabling them to pay transportation costs for certain startups from out-of-town and out of the country. Dormitory style housing was provided by the Nerd Tribe and Goodybag.
"I went skeet shooting with some people from Australia yesterday," Hughes said.
Last year, the event included 20 events. This year that has been upped to 30.
This kind of event, Hughes said, where startups are all underone roof, is the vision they have for recruiting more people to the Austin startup scene.
In addition to startups there were investors in the crowd, including Tarzan Sharif of ViralIndiustries who recently moved from the Dallas/Ft. Worth area to Austin. Sharif said he was looking for companies whose context included philanthropy.
"This is the place to find people with the same mindset," he said, explaining why he chose Austin to relocate.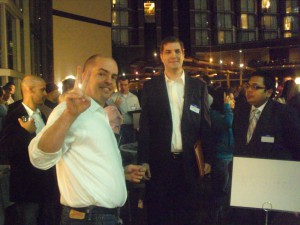 Among the companies with a philanthropic view were Global Citizen, a tool to help people stay abreast of issues in the world of extreme poverty, and Voxgift, an app that simplifies communication for people in hospitals who struggle to communicate either because of medical treatment or language barriers.
Of course, not all the companies presenting had an altruistic bent. But that was one of the characteristics that separated the "mindset" Sharif referred to, from Silicon Valley.
The rest of the week will include more meetups, a women's tea and a startup crawl.