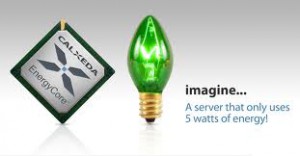 Almost a year ago, Calxeda debuted its high-performance low power semiconductor chips to power Hewlett Packard's servers.
Today, the company announced it has secured $55 million in additional funding with Austin Ventures, Vulcan Capital and its existing investors. To date, the company has raised more than $100 million.
Calxeda plans to use the money on research and development and marketing its products for the ultra-lower power scalable computer industry. It says performance tests show that its chips are ten times more energy efficient than X86-based servers. Calxeda's chips power servers in giant data centers that require peak efficiency.
"Since it's based on ARM technology, its chips are similar to the low-power, yet highly capable, processors used in smartphones and tablets," according to VentureBeat.
"Calxeda is not alone in the market. Applied Micro, Cavium, Marvell, Nvidia, and Samsung are all aggressively pursuing the opportunity to take Intel market share with new low-powered servers," TechCrunch reports.
Calxeda, founded in 2008, now has more than 100 employees at its headquarters in Austin and its office in Silicon Valley and at subsidiaries in Asia.
"This significant infusion of capital will accelerate the exciting trajectory we've been on for the past four years," Calxeda co-founder and CEO Barry Evans, said in a news release. "Businesses require a more efficient solution for the Web, Cloud, and Big Data. That is what Calxeda is now delivering and this funding will enable us to go bigger and faster."
For more on Calexeda, read this profile Silicon Hills News did a year ago on the company.