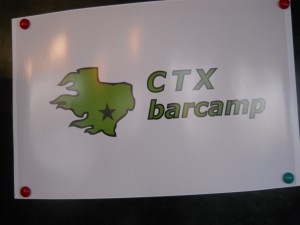 A white board plastered with dozens of sticky notes tells part of the story of the first Central Texas Barcamp at Geekdom.
People attending this unconference filled the board with ideas for sessions including ethical hacking, how to create a kick ass page on Facebook for a nonprofit, Creating the Wow: marketing yourself/business on the Internet, Blog tips and tricks and so much more.
An unconference is an event in which the participants put on the show. But the chief organizer behind Central Texas Barcamp is Joey Lopez, a professor of convergent media at the University of Incarnate Word.
"I lived in Austin for 10 years, we had built a creative space there. Back in 2008, I pitched the idea of having a creative space in San Antonio," Lopez said. "My goal with this conference was to bring together like minded individuals from a diverse background, Chicanas, architects, startups, academics, just everyone from all over Central Texas to talk about the cool, creative things that are going on in their lives."
More than 120 people signed up for the Barcamp and half of those people showed up, Lopez said. They came from San Antonio, Austin and Houston.
"We've got people who have talked at Tedx here. We have people who have talked at Foo Camps, where Barcamp is based off," Lopez said.
Dustin Younse with Dorkbot in Austin is here. So is Brandon Wiley who runs Hackerspace in Austin. And Jennifer Navarrete, who started Barcamps in San Antonio back in 2008, is livestreaming the event."
The focus of the event was to get people invigorated to have new ideas come out and share them, Lopez said.
"It's a participatory, collaborative environment and unlike something like Tedx, it's free," Lopez said. "The participants are the speakers and the audience."
The event also brought together Austin and San Antonio's tech community and creative community.
"I met some people in San Antonio who want to do some civic hacking and one gentleman who is already doing it," said Chip Rosenthal, who drove from Austin to attend the event. He runs a site, Unicom.com, for people creating software and tools with a civic interest in mind. He did a session on "Hack Your City: Open Government and Data."
Brandon Wiley drove down from Austin also. He's a member of Hackerspace in Austin and he consults with startup companies. He has put on several unconferences in Austin. On Saturday, he saw some good talks including one on how to make video games and another on autonomous vehicles.

"To me, the conference is about the hallway conversations as much as the talks," he said. He met new people and shared ideas between sessions.
Jennifer Navarrete organized the first Barcamp in San Antonio in 2008 and attended the latest one.
"It's a way to bring together a diverse group of people under one roof," Navarrete said. That creates a certain kind of "magic" around the principals of Barcamp, which are to learn, share and grow, she said.
Alicia Arenas, who runs
Sanera Camp
, a business bootcamp in San Antonio, attended the day-long event to learn from others.
"What I love about camp is the informal atmosphere and getting to connect with people," she said. "Unconferences really reveal the brillance of the people in the room."
The audience asks questions, shares their own experiences and offers up new ideas, Arenas said.
"You don't get to go to a regular conference and float ideas, but you can do that here."