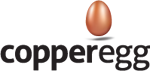 CopperEgg has raised $2.1 million to complete its first round funding.
The Austin-based cloud monitoring and analytics company also hired Bob Quillin as its new CEO.
Silverton Partners led the investment along with Webb Investment Network and several private investors including Kenny Van Zant of Asana.
To date, CopperEgg has raised $4.1 million.
"Cloud computing has grown dramatically over the last few years to address a broader base of customers who have ever increasing demands for speed, simplicity, quality of service and value," Quinllin said in a news release. "CopperEgg is at the forefront of a second generation of companies who are enabling this mass adoption, through SaaS-based solutions that are smarter, faster, lighter weight, and more accessible than the previous generation of cloud monitoring tools."
Quinllin previously worked at Hyper9, EMC Lonix and nLayers.