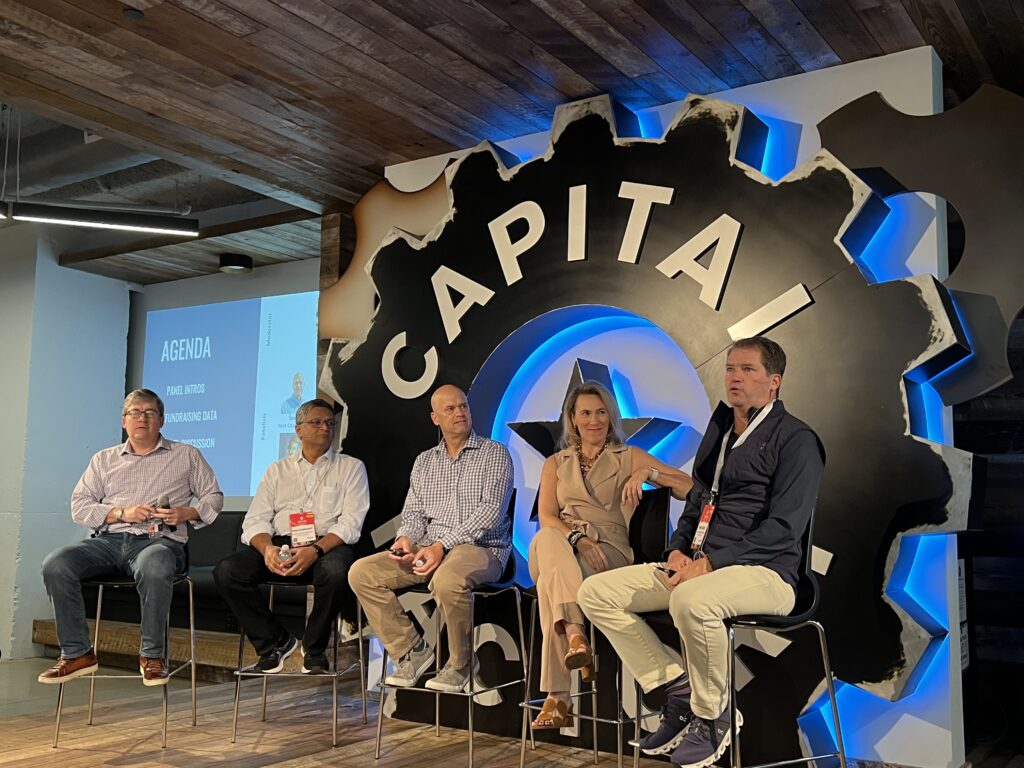 Startups' Valuations are down, and entrepreneurs must do more with less money and focus on their core business to become profitable.
The days of startups valued at 20 times revenue are over, and now, it's more common to have five-, six– or seven-times revenue as a valuation, according to Mike Dodd, general partner of Silverton Partners.
He spoke on a panel during Austin Startup Week's discussion on "The Shift of the VC Fundraising Landscape: What This Means for Texas Entrepreneurs" Wednesday morning at Capital Factory. Charlie Plauche, general partner of S3 Ventures, moderated the panel, which also included Venu Shamapant, founding partner of LiveOak Venture Partners, Kerry Rupp, general partner of True Wealth Ventures, and Tom Ball, Cofounder and managing partner of Next Coast Ventures.
"There was just a matter of time before this bubble burst," Dodd said.
But the situation could be more dire. Dodd said the panel had $1 billion worth of "dry powder" or venture capital funds looking for an investment. Many of the firms raised significant funds a year or two ago, and they have been more discerning in the last three quarters of making investments.
That shows in the latest VC data on the Austin-Round Rock metro area. Austin companies completed 78 deals worth $589.9 million in the third quarter, down 33 percent in value and nearly 20 percent in deal volume from the same quarter a year ago, according to the latest Pitchbook-National Venture Capital Association Venture Monitor report.
In the first three quarters of 2023, Austin companies have raised nearly $2.8 billion in 290 deals.
"Austin will likely reach 400 completed deals for the third consecutive year in 2023," according to the report. "That figure would be just a 20 percent decline from the 2021 high, making Austin one of the more resolute VC ecosystems of the major markets."
"It's been an entrepreneur-friendly environment for a while, but it's shifted in the last ten months. It's more investor-friendly," Dodd said.
"It's a very cyclical business," said Ball, managing partner of Next Coast Ventures. Ball emphasized that there has never been a better time to start a business.
"You are in it for longer than the average marriage in America," Ball said. "As long as you have a good idea and can fund it, it's good."
Ball said Next Coast Ventures has pushed all of its portfolio companies to reach profitability to survive. Three to four years ago, VCs told startups to pursue growth at all costs, and now they need to be profitable, Ball said.
"It's a tough environment as an entrepreneur with all the different advice you get," Ball said.
Entrepreneurs must focus on their core business, Rupp said.
Also, debt isn't available like it was a few years ago, Shamapant said. He said the days of getting a low-interest loan from Silicon Valley Bank are gone.
Companies that have moved here need to know that things are going to get better, said Plauche, general partner of S3 Ventures.
Dodd said that Austin VCs have a lot of capital to focus on Austin investments.
In the past five years, Austin has seen a flood of people move from the California coast to Austin, and that's been good for the ecosystem, Dodd said.
"I'm a bit of an Elon Musk fanboy," he said.
In addition to relocating Tesla's headquarters to Austin, Musk has brought SpaceX, the Boring Company, and Starlink operations here, and that's good for everyone, Dodd said. He said that brings in many talented people, and some might decide to launch their own business.
"It's better than it's ever been," Dodd said. "It may not look like that in your shoes right now because it's hard to get capital. But I think we're in a great spot."
Silverton has made five new investments in the last three months; before that, it had yet to do any in the previous ten months, Dodd said.
Next Coast Ventures has also closed on five new deals in the last three months, Ball said.
Shamapant said he's been in Austin for 24 years, and the venture capital industry is the healthiest it has ever been. Austin Ventures used to be the only venture capital firm in town two decades ago; now, there are dozens of firms, he said.
"Money has a lot better chance of getting to you when there are multiple firms in the market," Shamapant said.
Austin needs to focus on its infrastructure to deal with the influx of new residents and companies, Shamapant said. In particular, there is a need for affordable housing.
"Inflation has hit here hard," Ball said.
Californians have also driven up compensation levels, and startups need more capital at an early stage to build a company, he said.
"Every deal is going to need more money," he said.
Plauche, general partner of S3 Ventures, asked the panelists what startup metrics they look at when deciding to invest.
At the early stage, many of the metrics True Wealth Ventures looks at in startups are qualitative, Rupp said.
"The first metric is the team," she said. She said that it's a bit more than just math at the seed stage.
"We don't invest until we see efficacy that something improves health," Rupp said.
Next Coast Ventures looks at the team and product market fit, Ball said.
LiveOak Venture Partners also looks at the team and product market fit, Shamapant said.
Silverton Partners focuses on product usage, Dodd said.
"If the usage is pretty high and becomes part of the daily workflow of the customer, then you are onto something," he said.
Rupp said seed investors and series A investors want a well-thought-out plan for how the entrepreneur uses the money.
"It's kind of a long exercise of iterating around what can I do with the capital to get to the next stage," she said. "You need to have a plan that makes sense to the investor around the assumptions you've made."
Raising money is like being a plane, Ball said. And he said the entrepreneur has to take the plane apart and put it back together again before it crashes.
Q3 2023 Top 10 VC Deals in the Austin-Round Rock Metro Area
SpyCloud $110 million Software Series D
Hidden Layer $50 million Software Series A
One Model $41 million Software Series B
Black Ore $40 million Commercial Services Series A
Diligent Robotics $26.5 million Computer Hardware Series B2
Osano $25 million Software Series B
Chipletz $23.2 million Computer Hardware Series B
CertifID $20 million Software Series B
Terminal Industries $17 million Software Seedstage
SkyFi $14.4 million Commercial Services Seedstage
Source: Q3 2023 Pitchbook-NVCA Venture Monitor