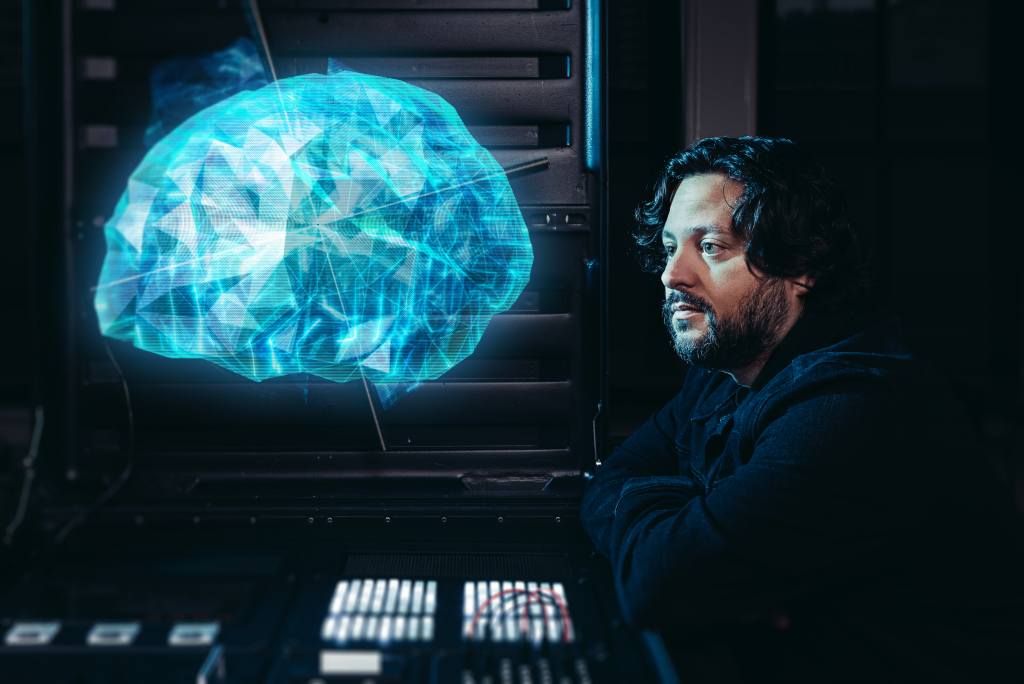 When Hypergiant Industries launched in 2018, within two weeks, the company had an acquisition offer, said Ben Lamm, founder.
But Hypergiant turned it down and turned down several other suitors in the last five years, he said.
But this year, Hypergiant got an acquisition offer, which it couldn't refuse because the partnership has so much synergy, Lamm said.
On Tuesday, Hypergiant announced its acquisition by Trive Capital, a Dallas-based private equity firm. Trive Capital has another portfolio company Forward Slope, which perfectly fits with Hypergiant Industries, Lamm said. The acquisition made a lot of sense, he said. Both companies are focused on creating AI-enabled technology solutions for the defense industry.
"It's crazy exciting," Lamm said.
The acquisition comes on the heels of Hypergiant landing a $62 million contract with the Department of Defense around Hypergiant's command center and its software platform that builds actionable AI-driven insights and user interfaces for warfighters.
In May of 2021, Lamm hired Mike Betzer, a serial enterprise software entrepreneur in Austin, to become the Chief Executive Officer of Hypergiant. Lamm left the venture to found Colossal, bringing the Woolly mammoth, thylacine, and dodo back from extinction through genetic engineering.
After Betzer's second meeting with Trive Capital, Betzer called Lamm and said, "These guys get it. They are massively focused on supporting America, protecting critical infrastructure, space, and defense, and they own a couple of companies already in critical infrastructure and defense," Lamm said.
Trive was so passionate about the mission of Hypergiant, its team, and the technology, Lamm said.
The terms of the deal were not disclosed. Hypergiant has not disclosed how much capital it has raised. Its investors include Align Capital, GPG, Perot Jain, Beringer Capital, and Capital Factory.
Lamm is a serial entrepreneur who has founded several successful tech companies. He currently serves as CEO of Colossal. Previously, he was the founder and CEO of Conversable, acquired by LivePerson, and the co-founder and CEO of Chaotic Moon Studies, acquired by Accenture, and Team Chaos, acquired by Zynga.
"I think of myself as an entrepreneur first and a CEO second," Lamm said. "I love being in the seat and running the company like I'm doing right now for Colossal, but fundamentally, whether it was Chaotic Moon back in the day or Chaos or Conversable or Hypergiant or Worlds with Dave Copps,  I love co-founding and founding businesses. But an entrepreneur's job is to build the right team and design the right product or solutions that serve a bigger goal and mission."
"We did that with Hypergiant, and so when I decided I wanted to go work on extinct species and get into genetic engineering, I needed to find the right person to lead, Mike," Lamm said.
As part of the acquisition by Trive, Betzer will continue to run Hypergiant, which has close to 200 employees. Most of Hypergiant's employees are in Texas, primarily in Austin and Dallas, but it's also got employees in Colorado and California.
"And we're hiring at seven people a week, and we have 60 open positions right now," Lamm said. "So, Hypergiant is just being fueled by growth, and having a major multi-billion-dollar private equity firm behind the company will allow it to deliver on its long-term vision."
Hypergiant has created AI-enabled, cloud-based command and control technologies and deployed solutions for the past five years. Chief among its accomplishments is its geospatial data visualization and actions platform, Command Center.
"Hypergiant's unique geospatial data visualization capability has positioned the company at the leading edge of C5ISR technologies that address mission-critical defense priorities. In an increasingly complex battlespace, Hypergiant is capable of rapidly delivering actionable insights to the warfighter," David Stinnett, partner at Trive Capital, said in a news release.
In addition, Hypergiant has created other award-winning AI-enabled projects such as the Hypergiant Eos Bioreactor, Hypergiant Project Orion, the Hypergiant Disaster Mapping System, the Hypergiant Chameleon prototype constellation, and Project Argus.
Hypergiant is building the Common Battle Management Interface for Cloud-Based Command and Control (CBC2), one of the largest AWS customers for the Department of Defense.
"Hypergiant is building new AI-powered solutions to solve some very complex industry challenges, Clint Crosier, director of Aerospace and Satellite Solutions at Amazon Web Services (AWS), said in a news release. "Flexible, scalable, and secure cloud-based tools are a must for satisfying government customer requirements well into the future, and we are committed to supporting Hypergiant's efforts."
Hypergiant's customers include the United States Air Force, US Space Force, Boeing, Homeland Security, Booz Allen Hamilton, NASA, the United States Army, and the National Reconnaissance Office.
"Space, defense, and American critical infrastructure face similar challenges and need AI-enabled common operating pictures for quick and informed decision-making. Our approach is to take government-funded projects, where we are building highly performant and secure, battle-ready solutions, and bring that technology to the private sector with mission-specific customization," Hypergiant CEO Betzer said in a news release.
"I'm excited about this next chapter for Hypergiant and the team and the technology, and it's great to have such an incredible leader in Mike and then an incredible financing partner in Trive that makes me excited to see where they take this," Lamm said. "I hope they empower Hypergiant technology to help protect more Americans through critical infrastructure space and defense."