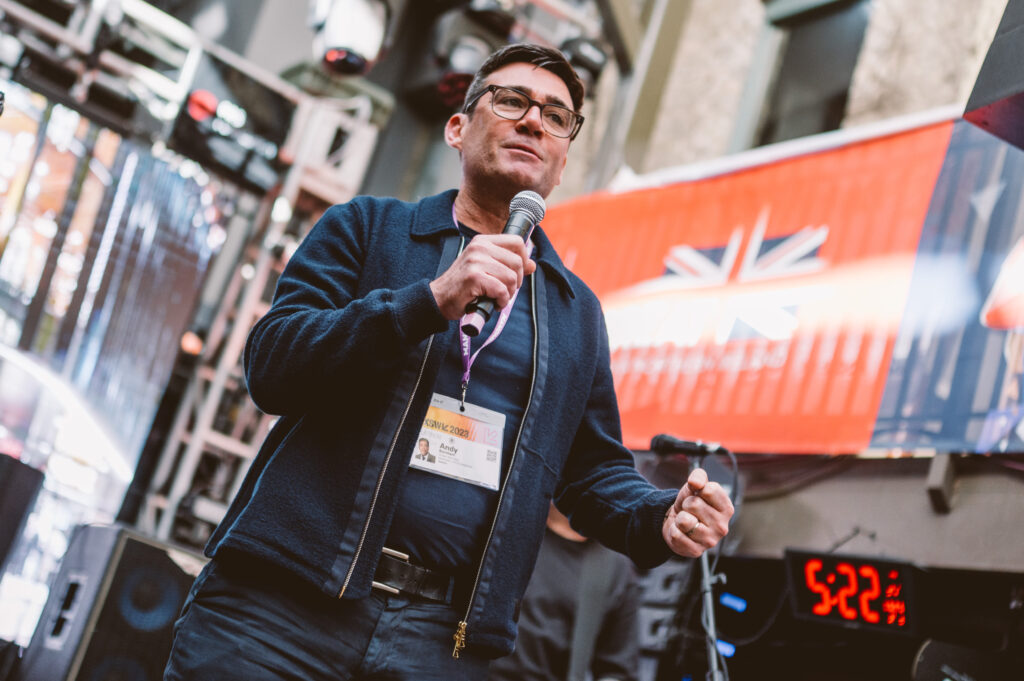 By Laura Kobylecky, Special Contribution to Silicon Hills News
During SXSW 2023, The Courtyard on 4th Street was transformed into an official SXSW venue that hosted various events focusing on British innovation, culture, and music. One of these events brought Andy Burnham, Mayor of Greater Manchester, to the stage to talk about what's happening in Manchester.
Burnham made connections between the growth and innovation patterns in Manchester and Austin. I also spoke with a citizen of Manchester to get their perspective and watched a performance from a Manchester band at an SXSW show.
I sat down with Burnham, Mayor of Greater Manchester, to talk further about this connection. Burnham explained, "The cities are so similar, to be honest." After "coming to Austin for the first time in 2018 to go to South By," he was "immediately struck by the similarities: a fast-growing city, a young city, a music city."
He was also impressed by Austin FC, a football club that was founded in 2018, saying that "he loved it." He described Manchester as "an old football city" and said, "There's not much about English football that I don't know." This adds a particular layer of depth to his emphatic statement, " They've built something new, something exciting… it's got all the right kind of values built into it." He believes that the "new fan culture" being built in Austin is something that "England will start to look to."
He connects Manchester's "passion" for football and live music culture with the culture of Manchester, stating that it's "Something about the working class roots of Manchester. Working people have hard lives, and they needed something on the weekend."
He explains, "Manchester is like Austin; we have an ecosystem of smaller venues." Like Austin, these venues receive support from "lots of people who go and watch the new bands that are open-minded about music." According to Burnham, "you go out any night of the week in Manchester, and you'll find a few hundred people watching a new band."
Burnham talks about the historical connections between Manchester, Austin, and SXSW. He said that "South By's founders were regularly in Manchester in that period in the 90s and the early 2000s" and believes they were inspired by Manchester's conference called "In the City," which he describes as "similar" to SXSW. Burnham describes this as something of a crossover and "not just by chance" but rather a sort of "cross-fertilization."
Manchester is also concerned about some of the same issues as Austin. Affordability threatens the scene's survival in both Austin and Manchester. Burnham believes that Manchester has "got a worry actually" because it remains "a working-class city," but some of the working class may not be part of the music scene.
He states, "These days if you want to make it in the music industry, you've got to have money or be from a family that has money because it's getting much harder to break through." He thinks this is something that "should worry us all… because sometimes it's those young people who come from those circumstances who become sort of the biggest personality, the character, and if that's lost, then music is much the poorer for it."
He also discusses "the risk" of Manchester perceiving "to trade on past glories: The Smiths, The Stone Roses, Happy Mondays, Oasis, New Order, Joy Division." This can lead to situations where Burnham believes "we've kind of looked back too much, and we need to look forward more."
Burnham's more personal contribution to this is "a new initiative called Mayors Artist of the Month." At "the last week of every month," he has an open application, and from this, he chooses the "' artist of the month,' and they get airtime on the radio." He says, "I promise you, I go out running, and then I listen to them all."
Another similarity between Austin and Manchester is that Manchester will launch its own "new global music conference," according to Burnham. He describes it as "not meant to be a rival to South By," but he does draw comparisons between the two. This conference, he claims, "is about a forum for debate and for resolution of some of these issues in the industry." He sees it as something that "counterbalances South by in many ways," including the timing. Beyond the Music will take place in October.
On Saturday, March 18th, I returned to The Courtyard for the British Music Embassy. I spoke to Rob Brown, managing partner at a PR agency in Manchester's MediaCityUK , to see how a non-government official feels about the Manchester/Austin connection. Brown has spent time in both Austin and Manchester and sees a kinship between the cities, saying that "they're both boom cities."
He explains, "you can see in the skyline of both cities they've changed immeasurably over the last ten years." Brown says that skyscrapers may be typical in the US, "it's quite unusual in the UK; it's only really London and Manchester that have tall buildings."
He also sees a cultural connection between the cities: "they're both very vibrant music capitals." Even though "Austin has more live venues than Manchester," Brown still believes "you can see a great band every night of the week in Manchester."
Brown is excited to be here at SXSW. He's a passionate music fan, so enthusiastic that he's already twice seen "The Golden Dregs," a UK rock band. This is his 10th SXSW, and he's already planning to come back again next year.
On Friday, March 17th, I saw Ist Ist, a Manchester-based band, play at The Velveeta Room, an official SXSW venue. They played a show full of post-punk energy with tones that ranged from heavy rock to mellow emotionality. The lead singer, Adam Houghton, informed the audience that this band is from Manchester.
Manchester culture has made a connection with Austin at SXSW.