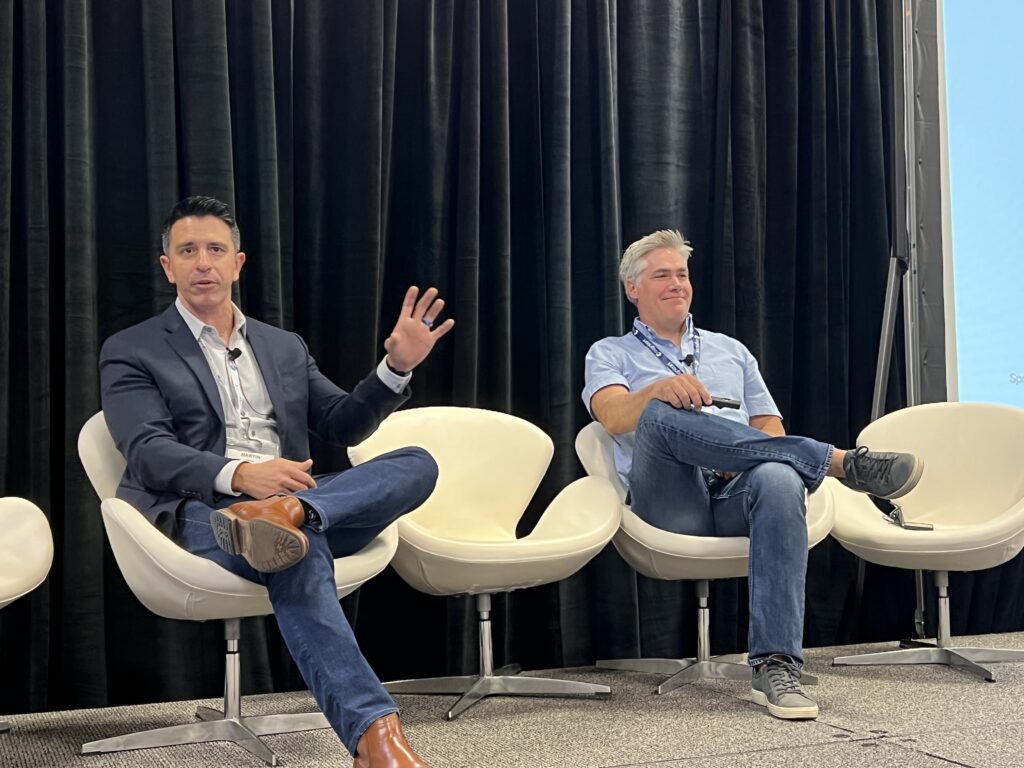 LIFT Aircraft in Austin has developed HEXA, one of the world's first production electric vertical take-off and landing aircraft, known as eVTOLs.
At the MOVE America conference last week in Austin, Matt Chasen, the Founder of Lift Aircraft spoke with Martin Salinas, the Chief Operating Officer of AFWERX about the development of dual-use aerial mobility vehicles for the commercial market and the military.
At Capital Factory in downtown Austin, Chasen got introduced to AFWERX and a new initiative that the Air Force had on eVTOLs.
"We didn't design the aircraft for initial military use," Chasen said. But the vehicle fit into the Air Force's plans to leverage commercially viable technology for military purposes, he said. It's part of the U.S. Air Force's plan to be a leader in the market, he said.
The small drone market has been dominated by DJI, based in China and that has also made it difficult with supply chain disruptions to provide products in the U.S., Chasen said. The military didn't want the same thing to happen with larger drones, he said. So, they reached out to startups to partner with on eVTOLs, he said.
AFWERX is different than the average military branch in that it is specifically focused on dual-use, said Salinas, COO of AFWERX.
"We are not forcing the company to create a Frankenstein," he said. It is looking for adaptable technologies that the military can use, he said.
When Chasen founded LIFT Aircraft he made sure it fit into a very specific Federal Aviation Administration classification for Ultra-Light airplanes. That class does not require FAA certification or a pilot's license to fly, he said.
"Which means that anyone here today can sit down and learn how to fly HEXA after about 30 minutes in a simulator and you can fly legally," Chasen said.
LIFT Aircraft's business plan is to open up locations to provide training and to progressively allow people to increase the distances that they fly, Chasen said. LIFT is focused on the commercial market.
It's great to have AFWERX come in and be a first customer, Chase said.
In April of 2020, the Air Force launched Agility Prime to work with the eVTOL aircraft industry on testing and experimentation, and to help accelerate the development of eVTOLs, Salinas said.
The program works through the Air Force's Small Business Technology Transition programs, run by AFWERX AFVentures.
Agility Prime is a Department of the Air Force program and also includes collaboration with the Army for developing eVTOLs.
The partnership with AFWERX has helped LIFT get to where it is today, Chasen said. The company is close to launching its first customer flights in Austin and hopes to have its first location open by the end of the year, he said.
LIFT Aircraft has only been in business for five years and the trajectory of its growth and accomplishments has been pretty amazing, Chasen said.
"The first year we went from a blank sheet of paper to me flying HEXA in a remarkable amount of time," Chasen said.
LIFT Aircraft has spent the last four years getting to a full production grade aircraft that is fully tested, Chasen said. The Air Force has helped tremendously in the flight test area, he said.
"We're not just building an aircraft," Chasen said. "We're building a vertically integrated service that lets you come to train, and fly the aircraft."
LIFT Aircraft kicked off its partnership with AFWERX and Agility Prime in April of 2020 and it delivered the first production eVTOL to the Air Force in February of 2021, Chasen said.
"We are in low-rate production now," Chase said. LIFT Aircraft makes about one HEXA per month, with each one costing between $400,000 to $500,000 to make, he said. LIFT Aircraft partners with Qarbon Aerospace in Red Oak, Texas, to manufacture HEXA.
The range of HEXA is short, but LIFT and AFWERX proved it could be deployed in the field by transporting a folded-up HEXA via a C-130 aircraft, Chasen said.
LIFT Aircraft has raised about $15 million in venture funding to date, Chase said. The company doesn't plan to sell HEXA to individuals. It plans to sell training and flights to individuals. The flights would cost $250 each. The company was featured on 60 Minutes earlier this year.