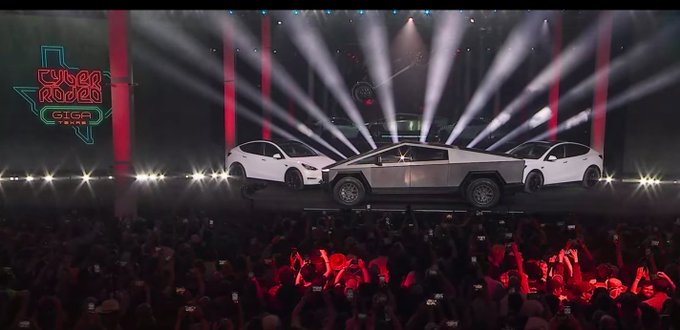 Tesla's Giga Texas is the world's largest manufacturing plant, said Elon Musk, Tesla's CEO and Founder.
It's as big as three Pentagons, Musk said. Or 194 billion hamsters could fit in the building, he said.
With fireworks, laser lights, and a drone show, Tesla officially opened Giga Texas on Thursday with a "Cyber Rodeo." The company invited 15,000 guests to attend the invitation-only event which began at 4 p.m. Musk spoke at the event following the drone show at about 9:30 p.m. The event was live-streamed through Tesla's YouTube channel.
Musk, who wore dark sunglasses, a black cowboy hat, and a Giga Texas T-shirt, also mentioned that Tesla is working on a Robo Taxi that is "going to look quite futuristic."
Giga Texas is making Model 3 and Model Y cars. At the event, Tesla showed off the first Made in Texas vehicles. In July of 2020, Musk announced plans to build the $1.1 billion Giga Texas plant on 2,100 acres located at SH 130 and Harold Green Road in Southeast Travis County. Tesla later bought another 381 acres of adjacent land for a total of 2,481 acres.
At the Giga Texas plant, Tesla also plans to produce the Tesla Cybertruck beginning next year, Musk said. And it will also make the Tesla Roadster and Tesla Semi, he said. The site also serves as Tesla's corporate headquarters.
Tesla is also building battery cells at the plant to power its vehicles, Musk said.
"Over time we think this will be the biggest cell factory in the world," he said.
"This year is about scaling up and next year there's going to be a massive wave of new products," Musk said.
Next year, Tesla's Optimus, a humanoid robot, could go into production, Musk said. Optimus is going to do everything that humans don't want to do, but no terminator stuff, Musk said. A prototype of Optimus was on display at the event.
"It's really going to transform the world, to a degree even greater than the cars," Musk said.
Tesla is also manufacturing its cars in a new way at the Giga Texas plant with the world's biggest casting machine, Musk said. The casting machine can make the cars efficiently and faster in a radically new way, he said.
Everything in the Tesla facility is under one roof, Musk said. Raw materials come in on one side, a bunch of things happen, and cars go out the other side of the building, he said.
"This will be the highest volume car factory in America," Musk said. The plant is expected to produce 500,000 Model Y cars a year.
In the last 12 months, Tesla delivered more than one million cars worldwide to customers, Musk said.
"That said there is still a long way to go," he said.
Tesla's production makes up 1 percent of the world's total vehicle output and Tesla wants to grow its market share to 20 percent, Musk said.
In order to make a big difference in sustainability, Tesla has to make a lot more cars to transition the world to sustainability as quickly as possible, Musk said.