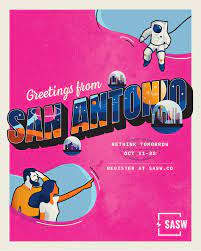 The sixth annual San Antonio Startup Week is taking place this week and next at various venues downtown.
Events are being held in person and run Monday through Friday. The sponsors include 80/20 Foundation and USAA.
A full schedule of events can be found on the San Antonio Startup Week website
San Antonio Startup Week features presentations, panels, workshops, and pitch competitions, happy hours and networking events. The events are free and open to the public, but registration is required, and limited tickets are available for select events.
Monday's highlight featured a talk in the afternoon between Entrepreneur Graham Weston and David Mongeau, the founding director of the UTSA"s Data Science School, moderated by Lorenzo Gomez, chairman of Geekdom.
Austin-based Sana Benefits sponsored the happy hour at the Dry Goods Building at 107 N. Flores.
Tuesday's event kicks off with a discussion on "Breaking into Tech & Sports as a Young Asian American Woman," followed by "Investing in Diverse Founders." The afternoon includes a startup spotlight on Jobward, a discussion on "What Ted Lasso Can Teach You About Leadership," "How Your Team Can Help You Sustain a Competitive Advantage" and "Converting Likes to Dollars: Building a Sales Playbook for Your Startup."
The day concludes with a Philanthropic Pitch Competition at the Tobin Center for the Performing Arts. Tickets to that event are $35.
On Wednesday, San Antonio Startup Week features another full day of programming including "The Future is Female – SA Women in Robotics." The day concludes with a partner event: "Red Bull Basement: Pitch Camp" at Espuela's The Bar at the Bridge.
On Thursday, TechBloc is hosting the TechFuel pitch competition at the Tobin Center. The sold-out event features a pitch competition for $100,000 in prizes. Five startup finalists will via the prizes which include a $50,000 grand prize winner and $20,000 to the runner up. The remaining $30,000 will be awarded to the audience's favorite. After the competition, Alamo Angels will host a free party featuring additional prizes from Capital Factory and the San Antonio Chamber of Commerce.
Friday features a panel discussion on "Transfer – A Multi-Generational Panel on the Impact of a Lasting Legacy."
San Antonio Startup Week continues the following week with the Louis H. Stumberg Venture Competition at Trinity University on Tuesday and the BEAM San Antonio October Event on Wednesday.