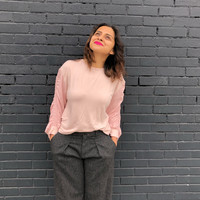 Benish Shah, a go-to-market strategist, specializes in growing companies via brand, revenue, and product.
She's worked across tech, media, and consumer packaged goods. A licensed lawyer, she's been published in Forbes, Refinery29, and more. She is also the author of two children's books.
Shah co-founded and served as CEO of a fashion tech startup. She also served as director of marketing strategy at SAY Media, VP of Marketing at Raised Real, which was acquired by Once Upon a Farm, and head of product marketing at Refinery29.
Shah recently sat down with Silicon Hills News on the Ideas to Invoices podcast to talk about the startup ventures she's been involved in and the lessons she's learned.
She founded a legal startup to make legal services more affordable.
"The hourly rate felt a little antiquated," Shah said. "It makes getting a lawyer almost inaccessible because you never know if something is going to cost a few hundred dollars or a few thousand dollars."
She worked on creating a model for lawyers to do flat rate deals, which has become more common in the last decade, she said. Shah has never left the legal field and has found that her law degree has helped her in the various startup ventures she's been involved in.
She left the legal startup to co-found a fashion startup, which used crowdfunded projects to decide how many garments to make. The company was way ahead of its time, Shah said.
"We were way too early on that concept," Shah said. "It did not take off the way we wanted it to."
There's a market for it now, Shah said.
"You can have the best ideas but you can launch them at the wrong time," she said. "And they won't work."
Shah is good at seeing a trend when it's forming and not when it's happening. And when people invest, they look at a trend that is already happening.
"You have to know the trends that are appearing and then you launch when the market is ready for them," she said.
Many pioneers survive because they come from some kind of backing that allows them to continue operations without going bankrupt, Shah said.
More funding and opportunities are becoming available to women and people of color but only because people of color are tenacious and they've demanded changes, Shah said. They've taken a chisel to the concrete ceiling and the black community has been working on this for decades, she said.
"The breakthroughs that are happening are not actually breakthroughs, they are years of labor both emotional, physical, and financial from these communities that have gotten us to where we are," she said.
There are a ton of new VCs and seed funds focused on under-represented founders, but we don't know yet what that means or how that is going to come out, she said.
The traditional markers that many investors look for in entrepreneurs are not always present with under-represented founders. They may not have gone to an Ivy league school or worked in a particular job or industry. They may not have an extensive network of well-connected friends and family members.
"When those markers don't exist and that's not what you're using to make a decision, that to me is a true breakthrough if you're able to do," Shah said. "And that's what I'm watching."
Companies, firms, and organizations that have hired people of color also need to support them and make sure they are given the resources to succeed, she said.
Most recently, Shah moved from New York to Dallas to be closer to her family. She also co-founded COVID Tech Connect, a non-profit that raised more than $10 million in less than 6 months to help during the COVID 2020 crisis. The nonprofit organization raised the money to put tablets into the hands of COVID-19 patients in ICUs across the nation so they could say their last goodbyes to family members and loved ones.
Shah also launched the first-ever product marketing course at General Assembly to help more women get into the technology and product field.
For more, listen to the entire podcast, pasted below, or wherever you get your podcasts – available on Google play store, Apple iTunes, Spotify, PlayerFM, Libsyn, and more.