Car insurance that relies on credit scores, homeownership, and demographic data has a lot of structural bias baked into it, said John Henry, co-founder, and co-CEO of Loop.
"A lot of the pricing is based on demographic factors," Henry said. "If you look at the rate filings of the top ten carriers, a credit score is 65 percent predictive. Your credit, your income, your occupation, all of those things predetermine your rates. When we saw that we were flabbergasted. We did not think that was at all indicative of your risk."
Based on major insurance provider's actual rate filings, a driver could have a DUI and two speeding tickets but live in a more affluent area and be well educated and have a better rate than someone who lives in a low-income area with a completely clean driving record, Henry said.
That's why Henry launched Loop with Co-Founder and Co-CEO Carey Anne Nadeau to provide car insurance based on a person's driving record. Henry is a serial entrepreneur and investor who sold his first business at 21 and went on to co-found Harlem Capital, which raised $40 million for women and minority entrepreneurs before he left in 2020. Nadeau is an entrepreneur and an MIT-trained city planner who formerly worked at the Brookings Institute and Urban Institute
"Loop is completely technology-enabled and it's powered by AI," Henry said.
And on Saturday, Loop officially goes live in Texas to provide car insurance to drivers statewide.
The company already has a waiting list of 30,000, Henry said. To create awareness, Henry and Nadeau drove a "mom van" around the state to meet with potential customers in Houston, San Antonio, Austin, and Dallas-Fort Worth.
Henry and Nadeau founded Loop in July of 2020 in the wake of the George Floyd murder by police officers in Minneapolis. The founders wanted to do something to bring more equity to people in under-served communities.
"We were inspired to do something big," Henry said.
Loop closed on a $3.25 million seed-stage round of funding in January led by Freestyle VC. The company, whose founders resided in Washington, D.C. and New York, moved Loop's headquarters to Austin earlier this year. They have also quickly grown from four employees to more than 30 employees. And they expect to be at more than 100 in the next six months and 1,000 with a year. Loop expects to close its next round of funding soon, Henry said.
Austin is a tech and insurance hub and is a particularly attractive market for innovative startups, Henry said. Loop recently became a member of InsureTech Austin, an organization that meets up monthly.
"We love the counterculture that exists here," Henry said. "Here people are talented and optimistic, and they love what comes with joining a newcomer."
Loop, which is a B-Corp, is a managing general agent that, unlike traditional agents and brokers, is vested with underwriting authority from an insurer. It bases its insurance rates on driver behavior which it gathers from its mobile app installed on the customer's mobile phone. The app can detect if the person is using the phone while driving, it can also measure other factors like speed and sudden braking.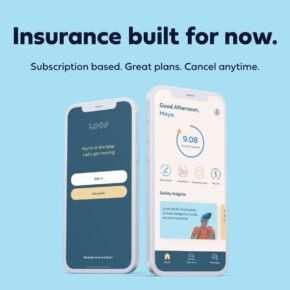 Loop also uses data to set and lower a driver's insurance rate based on where they live and the accident rate for that area. Loop taps into databases of traffic accidents, weather, road conditions, and more. The app also uses artificial intelligence and machine learning to recommend safer routes for drivers to avoid accidents, Henry said. It has a partnership with TomTom to provide traffic alerts and mapping in real-time.
Loop is aiming its product at Millennials and Generation Z who are avid mobile phone users and are comfortable with sharing data on their driving behavior for discounts on rates. It's also going to be popular with renters, Henry said. Because a lot of insurance companies give a 15 percent discount to people who bundle home and auto insurance, he said. That doesn't mean homeowners are 15 percent less risky than renters, he said.
By making the car insurance rate based on behavior and not any other demographic factors or extraneous factors, Loop is creating a fairer system for everyone, Henry said.
"When you are rated on the things that matter, you end up saving a ton of money," Henry said. "If your credit score is fair, that shouldn't matter. If you work a blue-collar job, that shouldn't matter. If you didn't go Ivy league and you can't get that discount, that also shouldn't matter at least according to our program."
For many structural reasons, a lot of communities don't have great credit ratings, Henry said.
"I reflect on my own experience," Henry said. "I grew up below the poverty line. My parents immigrated from the Dominican Republic. We were poor but my mom and dad are really good people. But they didn't have careers. They had jobs. They didn't learn the language. My mom was a custodian, and my pops was a presser in a dry cleaner. And so, we always lived in lower-income areas."
But they were also super safe drivers, Henry said.
"And it's nuts to me that the communities that would need the breaks the most and often times have good driving records are often penalized and paying the most," Henry said.
On average, a lot of these communities are paying 70 percent above average rates, according to the data Loop examined, Henry said.
People need insurance for everything from getting a car, to a house to renting and it's conveniently invisible, Henry said.
Loop plans to roll out first in Texas and then launch in additional markets like Illinois, Pennsylvania, and Ohio this year, followed by New York, Connecticut, Maryland, Washington, D.C., Virginia, North Carolina, and Washington state in 2022.