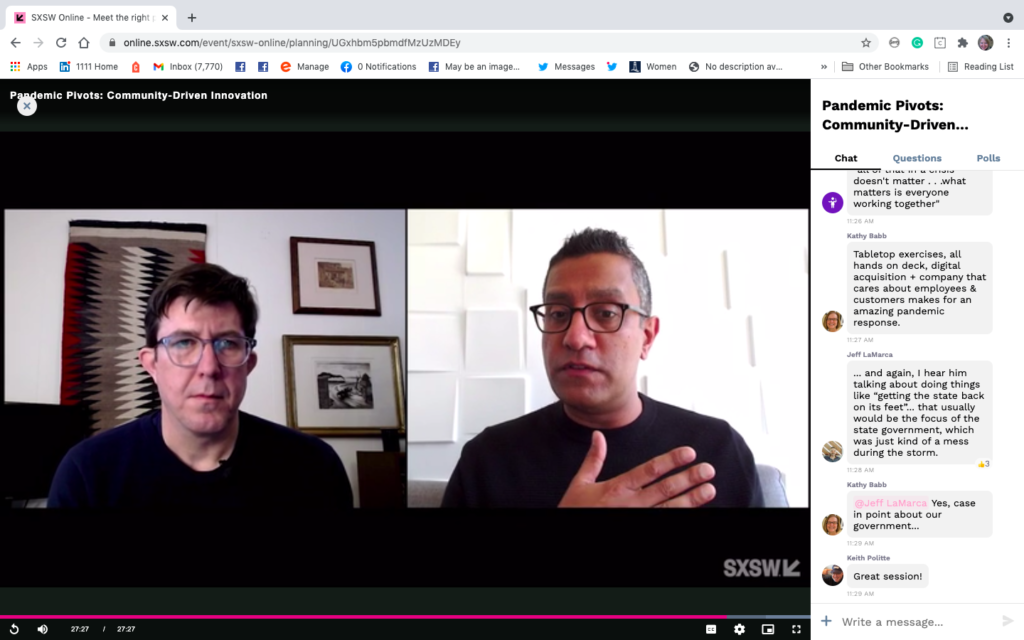 When the pandemic hit Texas last year, Favor, H-E-B's on-demand delivery service, expanded into 75 new towns and cities in a week at the end of March, said Jag Bath, the company's CEO.
"Favor was very quickly able to expand into towns and cities that had no on-demand delivery services," Bath said
In comparison, in 2018, Favor expanded to 40 new cities in an entire year, Bath said. He spoke with Tom Foster, editor of Inc Magazine, on a South by Southwest interview titled "Pandemic Pivots: Community-Driven Innovation" which aired on Saturday morning.
The major focus of Favor's big expansion was to get more service to seniors in Texas, Bath said. The senior support program was launched at the start of the pandemic, he said. The Centers for Disease Control reported that seniors were most at risk to contract Covid-19. H-E-B wanted to come up with a solution to get groceries and essentials to seniors at home, Bath said. H-E-B and Favor couldn't rely on the latest technology and its app because many seniors didn't have access to that technology. Instead, H-E-B and Favor had to build a system that seniors could easily use by phone, Bath said.
"You have to really think different," Bath said. "Our norms when it came to digital approaches had to be thrown out the window."
H-E-B had to create a brand-new decentralized call center to allow staff members to take calls from seniors and allow runners to fill those orders and deliver them to their doorstep through contactless methods,  Bath said. That system had to be built from scratch, he said.
"We became an essential business overnight at H-E-B and at Favor," Bath said.
H-E-B's experience at responding to hurricanes and other emergencies in Texas helped equip the company to prepare for the Pandemic. H-E-B and Favor early on began preparing for the pandemic. The toilet paper shortage took the company by surprise, Bath said. But the company was able to meet the needs of its communities in most other areas except for cleaning supplies, which were in short supply for a long time.
And when the Texas storm hit, H-E-B and Favor once again relied on its emergency preparedness, Bath said. Favor teamed up with restaurants and community partners in Austin, where it is headquartered, to provide almost 3,000 meals to people in need, he said. Food Banks also primarily depend on supermarkets to provide food, so H-E-B moved to give 23 truckloads of food and meals to Texas food banks as soon as it could get back on the roads and more than 20 trailers of water to people, Bath said. H-E-B donated $1 million to Feeding Texas and that is being distributed to 18 food banks across the state, he said.
"We have never seen an impact like this, which was statewide," Bath said.
H-E-B has been around for 115 years. Favor has only been around for seven years. Favor was H-E-B's first acquisition in its history. But both companies focused on community, and that has led to their success, Bath said.
"It's a people-first approach that has always been the heart of everything we do," he said.
At its core, Favor is a local logistics company, Bath said. Logistics and operations are at the heart of H-E-B. Then you have this focus on community, and a people-first approach, he said. Combine those things together and you have something magical, he said.
Also, H-E-B and Favor are solely focused on the Texas market and that helps the companies better serve their communities.
"H-E-B is stitched into the fabric of Texas," Bath said. H-E-B understands the communities it serves and is able to serve the needs of those communities better, he said.
The needs are different from city to city and rural town to rural town, he said.