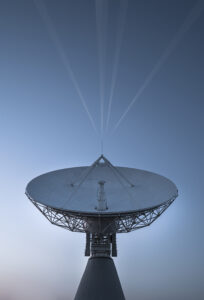 Starlink, a division of SpaceX, is building a new manufacturing plant in Austin, according to a job posting by the company.
Starlink is developing a broadband Internet system enabled by a constellation of low Earth orbit satellites providing service to those in rural communities and places where existing services are too expensive or unreliable, according to the company.
On February 15, SpaceX confirmed the deployment of 60 Starlink satellites.
Starlink has been testing its satellite Internet service with beta customers in the Texas Hill Country. It plans to roll out the service to more customers in mid-2021, according to a posting on Starlink's website. It is taking orders on a first-come, first-served basis with deposits of $99 on the service. The hardware will cost $499, and the service will cost $99 a month
"To keep up with global demand, SpaceX is breaking ground on a new, state-of-the-art manufacturing facility in Austin, TX," according to the job post. "Up to 25% travel to SpaceX Headquarters in Los Angeles, until Austin facility is fully established."
SpaceX and Starlink could not be reached for comment.
In addition, Elon Musk, founder and CEO of SpaceX, posted a tweet on Tuesday about creating the city of Starbase, Texas. He didn't provide any details. SpaceX is building rocket ships in Boca Chica, in the Southern Texas county of Cameron.
Musk recently announced he had moved from California to Texas as he has steadily increased the footprint of his companies in the state.
Musk's other venture, Tesla, is building a Gigafactory on the outskirts of Austin with plans to manufacture Cybertrucks.
And the Boring Company, which specializes in digging underground tunnels for highspeed commuter transportation, recently relocated its headquarters to Austin.