By OMAR L. GALLAGA, Freelance Contributor to Silicon Hills News
A few weeks ago, Michelle McKown celebrated her return to a workspace at Central Austin's Vessel Coworking with a cheerful Instagram story post. "Back at @Vesselcoworking and it feels so good!" she posted, "Don't @ me! It's lunchtime & I can't eat through a mask!"
McKown, like perhaps thousands of others in Austin who were regulars at more than 60 coworking spaces before the COVID-19 pandemic, vacated the premises in March. She'd been a loyal customer since last August, using the space to study and write papers as a returning student studying to be a therapist.
Returning after five months without ever having canceled her membership, McKown says she decided to come back because she felt Vessel's owners were approaching the issue of customer safety thoughtfully, and because she sorely missed the social interaction. She also needed separation between her home and work life.
"School started back up and I'm going insane at home," McKown said over a video call from her tabletop at Vessel. "I can't work at home. Some people thrive doing it, but I can't."
So she returned, joining about 10 others who are spaced apart physically and temporally at the coworking space throughout the week. "They made changes to the A/C system to make it safer. They have sanitizers all over the building," McKown said. The business also had facemasks printed with the Vessel Coworking logo on them. "They made me feel like, OK, this is being done well and I feel safe coming back to this."

Closings
Six months into the pandemic, some Austin coworking spaces are finding that freelancers and entrepreneurs as well as large businesses with nomad employees are slowly dipping their toes back into coworking. A comeback of sorts for coworking may be on the horizon, despite ongoing COVID-19 infections in Texas.
But the coworking businesses that survive, and perhaps thrive, after this pandemic period, will be rising amid the ashes of some others that didn't make it through. Austin has seen months of empty downtown offices and closings of several coworking spaces such as Orange Coworking and The Riveter, which is shifting its business away from coworking and which closed work locations in several cities including Austin.
In the case of Orange, which had initially planned to return after a temporary shutdown, the economics of the situation turned the closing permanent. Founder Dean Siracusa said longtime members canceled memberships and some members were forced to work from home by companies who had been paying some or all of their Orange membership fees.
A Hail Mary Facebook and LinkedIn ad campaign to attract new members in May was unsuccessful. "We stopped the campaign when it both, 1, was not working and, 2, was attracting some backlash from the general public about safety," Siracusa said in an email. An attempt to negotiate a reduced-rent lease with building owner H-E-B also didn't work out, he said. "We liquidated all of the supplies and furniture and closed up. And that's basically the whole thing."
One of Austin's most high-profile coworking spaces and startup incubators, Capital Factory, has all but given up on the idea of a shared collaborative space for entrepreneurs, at least in-person ones, for the foreseeable future.
"Coworking is dead until COVID passes," Capital Factory founder and CEO Joshua Baer declared in an August 16 blog post at Austin Startups. The founder says Capital Factory is pushing virtual-first events and meetings, particularly for anything involving larger groups. Not everyone will adapt to working from home, or being away from a home office, he said in the post, but added, "I believe that a double-digit percentage of people will never go back to working in the office."
Signs of life
Some people never left and, surprisingly, some Austin coworking spaces never actually shut down amid the pandemic.
David Perez, the founder and president of Lumen Insurance Technologies, is one of the die-hard coworking devotees who continued to work outside the home even in March and April.
He works out of Galvanize in downtown Austin and goes there every day, 9 to 5, for three really great reasons. They are ages six, three, and 18 months.
"It's bad," Perez jokes, "it's really hard to get anything done in the house." The Galvanize space is attractive as a place to work "because of the stillness and the quiet amid the chaos from home and kids being there. Now, I had a place I could go and actually work in peace and quiet."
It's been even quieter since March, "A ghost town," Perez says, but he's continued to get work done at Galvanize, checking his mail and engaging in some socially distanced networking and conversation when others are in the space. "Sometimes it's just friends, sometimes it's potential business or investment opportunities," he said.
Perez is the kind of customer that has kept some coworking businesses going, along with small-business loans and the generosity of businesses and membership holders who've kept paying fees even when they aren't using a space.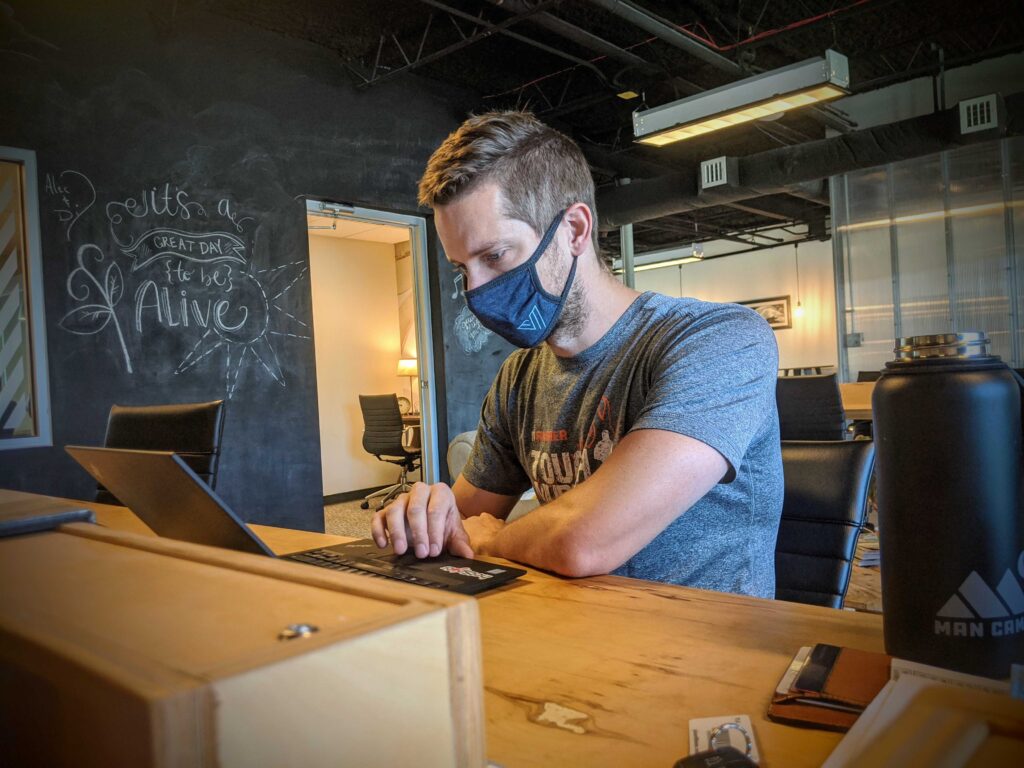 That's been the case at Vessel, where owners Steven and Beth Knapp have been taken aback by the support they've received through the pandemic to keep the doors open at the business, which opened in 2015.
"I can't describe the generosity we felt from that," Beth Knapp said. "We weren't holding anyone to a contract or any membership commitment over their head. If someone said, 'I need out,' we let them out."
A small handful of regulars continued to work out of Vessel in the spring and Steven continued to go to the space every day, scaling down big breakfasts to a few Nervous Charlie's bagels. They continued in their role of dinner party or backyard barbecue hosts making the space comfortable and friendly for their clients and helping them make connections with others.
The numbers of those using Vessel have slowly crept up; Beth and Steven say their clients have been respectful of spacing, wear masks in common areas and throughout the For the City center where Vessel is housed, and that there've been no incidents of COVID infections among those who patronize Vessel.
"Nothing has changed other than that I just think overall everyone's awareness of how they should be as a community," Steven Knapp said.
That doesn't mean the couple hasn't agonized over how best to protect their customers and to make a safe space for working. They've tried to make thoughtful decisions and to solicit feedback from customers as the pandemic's parameters have continued to change, Beth Knapp said. "I feel like definitely people would judge us and have something to say on how we've handled this along the way. We haven't been sure how to navigate it."
A future coworking boom
One thing that businesspeople like Joshua Baer, coworking owners like the Knapps and coworking experts agree on is that post-COVID, whatever work looks like, it will be boom times for coworking spaces providing safe, productive places to work.
Already Vessel is seeing an uptick in requests for accommodations for small teams and for usage of a second off-site space they own that's set up for all-day conferences. Coworking spaces with private offices and plenty of room to spread out will be in high demand as working from home becomes unsustainable long-term and businesses hedge on bringing workers back to home offices, says one long-time coworking entrepreneur.
Liz Elam, the former owner of Austin's Link Coworking and creator of the Global Coworking Unconference Conference (GCUC), says COVID-19 is weeding out businesses that were already in danger before the pandemic and paving the way for a big step forward in the industry.
"Those that do survive have a fantastic opportunity on the other side of COVID," Elam said. Working from home, she says, sounds great at first, but is a haven for distractions, can exacerbate depression among singles and is typically not subsidized by businesses.
"If you are taking space in somebody's private home, you should have to pay for their internet. You should give them an ergonomic desk. You should give them a chair and you should pay them for a portion of your house that they're utilizing," Elam said.
Short of that, she said, businesses will likely ask employees to utilize a mix of work-from-home and safe coworking spaces, especially ones that cut down on commuting distances. "It's really good for suburban and rural coworking," she said. "So like Cedar Park, Pflugerville, Georgetown, San Marcos are great places to have coworking spaces right now because that's where people live."
A few new coworking spaces are trying to anticipate these shifts, including Firmspace, which has opened a flagship space in Google's downtown Austin office building, and Common Desk, which continues to expand its locations throughout Texas and in other parts of the country.
Elam says that these businesses have a mission to put people at ease about their safety concerns if they want to stay in business. That could mean upgrading air systems, changing floor plans and adding private offices, investing in lots of wipes and hand sanitizer, and most importantly, making sure their marketing is up to date.
"They need to put it on their website, they need to make it front and center," she said, "they need to change their photos to show social distancing."
The Knapps say they are optimistic that Vessel Coworking, which they took over three years ago, will thrive in the new normal. They think coworking spaces still fit a huge need in Austin.
"People still want to be part of the community," Steven Knapp said, "they still want to work amongst people.
"Certainly I think people are just tired of being at home," he said.
Correction: This article has been updated to correct Michelle McKown's name.