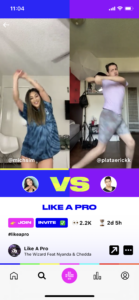 At a Youth Peace Summit held at the John Knox Ranch in Wimberley, Ryan Jordan saw how young men and women from 20 countries bonded.
One of the ways was through dance.
Even though the teenagers spoke different languages and came from a variety of cultures and backgrounds, they all liked music and dance, said Jordan, who served as executive director of the Austin-based Amala Foundation, which hosted the summit.
That summit is where the idea for DanceFight, a mobile dance competition platform, began. To bring the project to life, Jordan teamed up with Rich Sloan to co-found Virtual Arts, maker of the DanceFight app. Jordan and Sloan have experience in consumer mobile apps and music-tech ventures.
Last week, Virtual Arts closed on $2 million in seed-stage funding to further develop the app, which is available for Apple devices right now. With the funding, Jordan plans to create an Android app for the Google Play Store that will be available in October. The startup also plans to expand internationally later this year. Investors include Quake Capital Partners, Sound Media Ventures, VSCO's CEO and Co-Founder Joel Flory, and Thunderstruck Dance Competitions.
Also, Virtual Arts plans to expand and re-brand the app beyond dance competitions to include singing, comedy, rap, cheerleading, basketball trick shots, skateboarding, and other action sports, Jordan said.
"Any way kids want to compete," he said.
The skills-based platform is aimed at Generation Z, primarily 13 to 24-year-old youths who grew up with mobile devices, he said.
Other apps like TikTok and Instagram's new "Reels" let people watch dance videos. But DanceFight is different because it encourages interactivity and pairs up dancers in side by side competitions and lets viewers decide the winner. The dance moves are whatever the dancer decides. They are only limited by their imagination and creativity.
"In the app, people are dancing in many different ways from break dancing to hip hop," Jordan said.
Work on the app started a year and a half ago, Jordan said. It was released in the Apple App Store about eight weeks ago and it received the designation in the as "Apps We Love." DanceFight is free to use. Virtual Arts makes money from in-app purchases and through ads and sponsorships, Jordan said.
DanceFight is also working with major record labels including Sony Music Entertainment, Warner Music Group, and Universal Music Group for dance challenges. It gives dancers access to millions of songs to create or join a challenge. DanceFight is also working with musicians like Pitbull to use the app to introduce new music and dance challenges, Jordan said.
DanceFight has also partnered with artificial intelligence company Hive AI to block any inappropriate content, Jordan said. And the app excludes commenting and direct messaging to prevent bullying and harassment, he said.
"We created a safe space for kids to express themselves fully," Jordan said.
DanceFight also never shows vote totals, just a winner, Jordan said. DanceFight has leaderboards and players earn points for participating in dance competitions as well as for winning them, he said. The focus is on inclusivity and creating an environment where everyone feels welcome, he said.
"Competition is a way to have fun," Jordan said.
DanceFight also plans to create an equity pool for participants and to reward them for contributing to the platform, Jordan said.
Virtual Arts has 11 full-time employees and six part-time employees. It recently hired Blake Gardner, former Perk Chief Technology Officer, Ben Rose, former head of growth for Pandora, and Norma Ventura, a former Creative Strategist at Khoros. In the next year, DanceFight plans to add 20 more employees. Right now everyone is working virtually during the pandemic, but eventually, they plan to rent office space at Vuka in Austin, Jordan said.