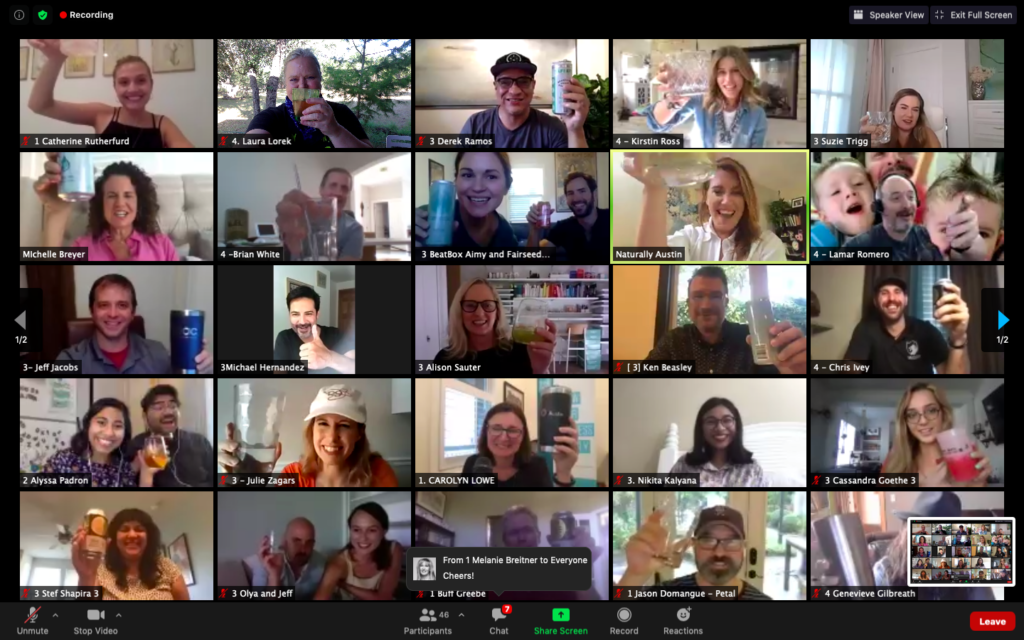 The novel coronavirus pandemic has created a whole lot of changes, making people adapt faster than a coyote chasing a roadrunner across the Chihuahuan Desert of West Texas.
It has also given rise to the quarantine cocktail party on Zoom. People who once crowded Austin's bars for meetups and happy hours, now congregate online to imbibe a beverage from their homes with friends and colleagues. Pets and kids also frequently make cameo appearances in these informal gatherings.
On Thursday, Naturally Austin and SKU teamed up to host "The End of Summer Cocktail Sling Virtual Happy Hour." About 70 people participated in the online event via Zoom from Dallas, Austin, Seattle, Minneapolis, and Colorado. Those who signed up early got a box of goodies delivered to them with cocktail recipes featuring Austin beverages.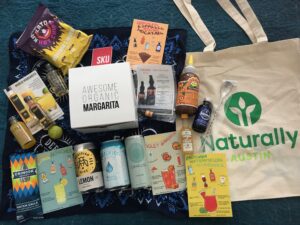 The box contained local products like Deep Eddy Vodka, Austin Eastciders watermelon seltzer, Waterloo sparkling water, Meridian Hive lemon, Soley Mango Passion, Tequila Sheela and more to make a variety of cocktails. The box also had snacks from Yellowbird Sauce, Chinook Seedery, Rockit Snacks, Karma Nuts, and Krakatoa Hot Chips. The assortment showcased just how much Austin's consumer packaged goods industry has grown in the past decade.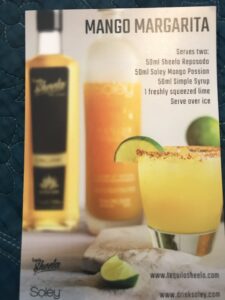 To kick off the event, Chris Ivey from Dragon Spirits Marketing gave a drink demo, mixing up the Corkless Soley Sangaria with a can of Corkless pinot grigio, HEB blood orange Italian soda, Mango Passion Soley and frozen mixed fruit. The kit also contained a recipe for a Mango Margarita using Tequila Sheela Reposado, Soley Mango Passion, simple syrup and a squeeze of lime served over ice. Participants had all of the ingredients to follow along at home, including a lime. Next, the event featured four breakout rooms with sessions on marketing, financing, direct to consumer selling and packaging and design.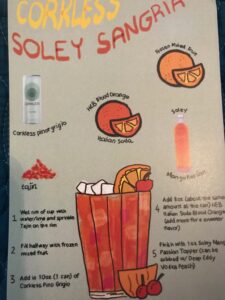 The idea for the happy hour event came about after Michelle Breyer, chief operation officer of SKU, was having a socially distanced glass of wine with Emily Kealey, executive director at Naturally Austin.
"We were both talking about how we missed the live gatherings where you could share a drink with the CPG community," Breyer wrote in an email response to questions. "And we decided to come up with a way to do something virtually."
Overall, CPG startups have fared better than those in many other industries during the Pandemic, especially if they had a strong e-commerce presence with direct to consumer sales and Amazon sales, Breyer said. Companies with cleaning products and wellness products have done really well, she said.
Nationwide, stay-at-home orders have driven increased demand for consumer packaged goods, according to the Consumer Brands Association, a trade group for the industry, based in Arlington, Va. In fact, the industry grew almost 10 percent in May of 2020, compared to the same month a year ago. And panic buying in March sent CPG purchases up 21 percent compared to the same month a year ago.
"Access to capital has been challenging for some startups, especially those who didn't already have lines of credit," Breyer said. "In terms of investment, deals are still getting done."
But shipping and logistics have presented new problems with supply chain issues, Breyer said.
"One of our founders from Track 8 had a new product that was being manufactured in China, and when the pandemic hit, everything temporarily came to a standstill."
SKU and Naturally Austin plan to host more virtual cocktail events in the future.
"Austin's CPG industry has an amazing sense of community who really enjoys getting together," Breyer said. "That's been one of the hardest parts – not seeing everybody. The End of Summer Cocktail Sling Party was a chance to fill the void until we can all gather again in person."