By LAURA LOREK, Publisher of Silicon Hills News
SKU, a consumer-packaged goods accelerator, on Tuesday officially kicked off its SKU 8 cohort.
The seven companies accepted into the 14-week program are Aura Bora, Blenders & Bowls, Cheddies, Esker, Ladybird Provisions, Mushroom Revival, and Paleo Powder Seasonings.
More than 150 people attended the SKU launch party held at WeWork SXSW Center at 1400 Lavaca Street Tuesday evening. WeWork has established its WeWork Food Labs at the center in partnership with SKU.
"We continue to grow up and expand out the Austin network," Kirstin Ross, managing director of SKU said during a presentation at the event.
SKU, founded in 2011, has made great strides in expanding out of the Texas market with the completion of its Beyond SKU program last year in New York, which ran from September through Demo Day on Dec. 3rd.
This year, SKU plans to expand even further with the launch of SKU Impact, an accelerator program partnered with Finnovation, an impact accelerator, based in Minneapolis, Minnesota.
In Austin, SKU has a track record of success with 44 companies going through its seven accelerator programs. And 84 percent of those companies are still in business, Ross said. Its alumni include Siete Family Foods, Austin Eastciders and EPIC Bar.
Part of SKU's secret sauce to success is its network of trusted mentors, Ross said. SKU's mentors include Clayton Christopher, founder of Sweet Leaf Tea and Deep Eddy Vodka, Doreen Lorenzo, former president of Frog Design and Quirky and Mike Dodd, general partner at Silverton Partners.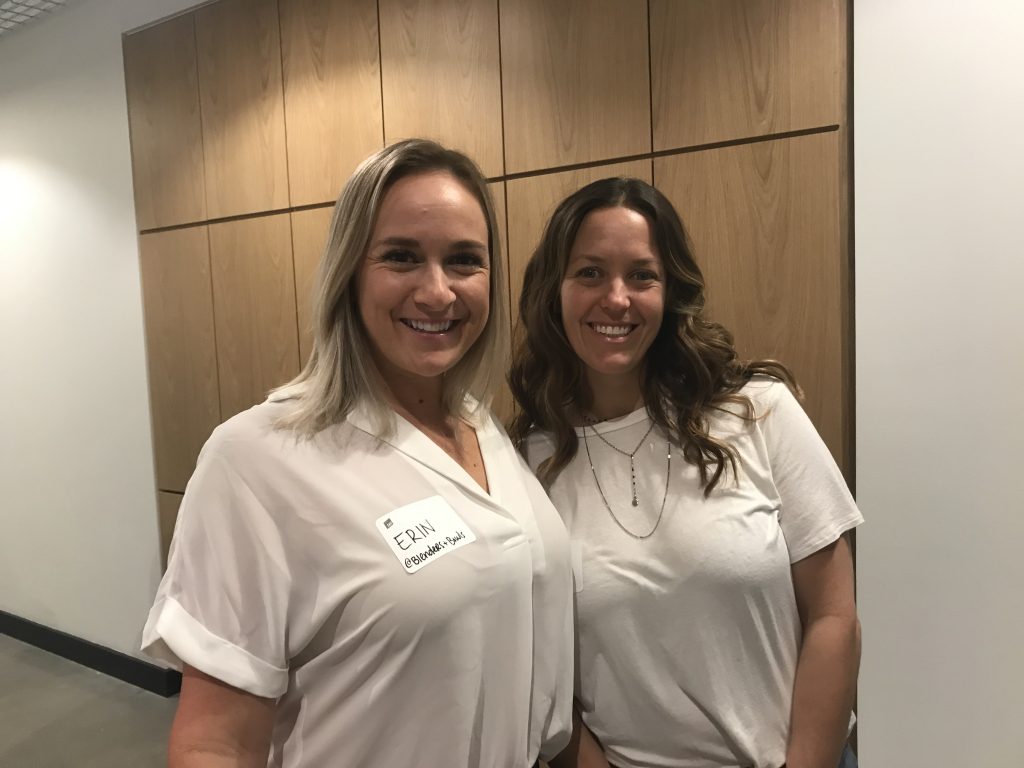 Among the latest startups for SKU 8 is an Austin favorite, Blenders & Bowls, which specializes in natural fruit smoothies and organic bowls of acai topped with hemp granola, fresh fruit, and local honey.
In 2011, Erin Thompson and Kara Jordan moved from Hawaii to Austin and launched Blenders & Bowls from a food truck. They opened their first brick and mortar location in 2012 and now they have five locations throughout Austin. With the acceptance into the SKU accelerator, they plan to launch a consumer-packaged version into grocery stores soon.
"Over the last few years people have always asked us how do I make these at home," Thompson said. "So, we've always had this idea of packaging them and being able to sell them in the stores. This year, everything kind of happened. It was like a serendipitous moment….Now we're full steam ahead and packaging our blends so people can make bowls at home."
Blenders & Bowls plans to launch in grocery stores this year, Thompson said. It first plans to sell the blends from its retail locations, she said.
Paleo Powder Seasonings, based in Giddings, founded 2013, offers grain-free seasonings and seasoned coating mixes also known as breadless-breading, said Dustin Gersch, founder and owner.
"I grew up in a small Texas town, ate a lot of food, played football in high school and college," Gersch said.
After college and no longer playing football, Gersch entered the workforce and weighing 315 pounds wasn't healthy, he said.
In 2010, he started doing CrossFit and he began following a Paleo diet. He went from 315 pounds down to 258 pounds.
His CrossFit coach told him to beware of the ingredients in spices. Gersch cooked a lot and many of the convenience seasonings had gluten, sugar or MSG ingredients. That's when he made his first seasoning recipe. During the next three years, he met people who suffered from auto-immune diseases and that's why he developed a season that had no inflammatory spices – Paleo Powder AIP – autoimmune protocol.
Paleo Powder's all-purpose seasonings are in 2,800 stores nationally including H-E-B, Walmart, Whole Foods, Sprouts, Wegmans and Albertsons and more.
"We want you to add flavor to the food you are eating and help you stick to your program," Gersch said.
He applied to SKU to have access to experts in the Consumer-Packaged Goods industry to help him strengthen his knowledge and help shape the company's direction moving forward, Gersch said.
Esker Beauty, a line of skincare products, relocated from Los Angeles to Austin. Shannon Davenport founded the company in 2018 after spending more than a decade in the research industry focused on beauty, design, art and consumer trends in New York and Los Angeles. She saw a real need for plant-based skincare products and decided to launch Esker to meet that need. Esker products are available at Nordstrom, Anthropologie, Goop and online and they have been featured in Vogue and Self Magazines.
Davenport launched the business and gave birth to her daughter around the same time. Austin is her husband, Greg Foley's hometown, they located here last year to be closer to family.
In the SKU accelerator, Davenport is looking forward to learning from mentors who have scaled their brands, raised money, and have a lot of expertise in the CPG industry, she said.
Mushroom Revival, based in South Deerfield, Massachusetts, is in the process of relocating to Austin for the SKU program. Alex Dorr, its owner, and founder couldn't be at the launch party, but his mom, Marjorie Dorr, who lives in Austin and is on the company's board, represented Mushroom Revival at the event.
"Mushrooms are just now being explored and seen for all of its benefits for increased energy, better night sleep, clear mind as well as clearer skin, " Dorr said.
The company was born out of finding a better cure for Lyme disease. Her son got the disease and struggled with achy joints, depression and other symptoms. He didn't like all the high doses of antibiotics he was prescribed. The only medicine that alleviated his symptoms was mushroom medicine, Dorr said.
"It was mushrooms that got him out of bed and revived his health," she said. He then went on to study mushrooms and all its beneficial properties and that led him to create Mushroom Revival, she said. Mushrooms are also good for the planet and can be used to clean up toxic waste, she said.
"The Fungi kingdom is really just blossoming here in the U.S.," she said.
Another Central Texas startup, Cheddies, which creates a high protein, all-natural cheese chip, is from San Antonio. Brothers Francisco and Tomas Pergola founded the company in 2016 to create healthier chips for snacking. Cheddies is now available at H-E-B, Amazon and more than 150 convenience stores.
Other Startups in SKU Track 8 include Aura Bora, based in San Francisco, which creates sparkling water from herbal extracts with ingredients like lemongrass, peppermint, lavender, cactus and basil, and Ladybird Provisions, based in Austin, which makes pre-made butter coffee bombs like Pure Focus that contain organic coconut oil and grass-fed butter and promises to promote healthy brain function and stimulate the metabolism.