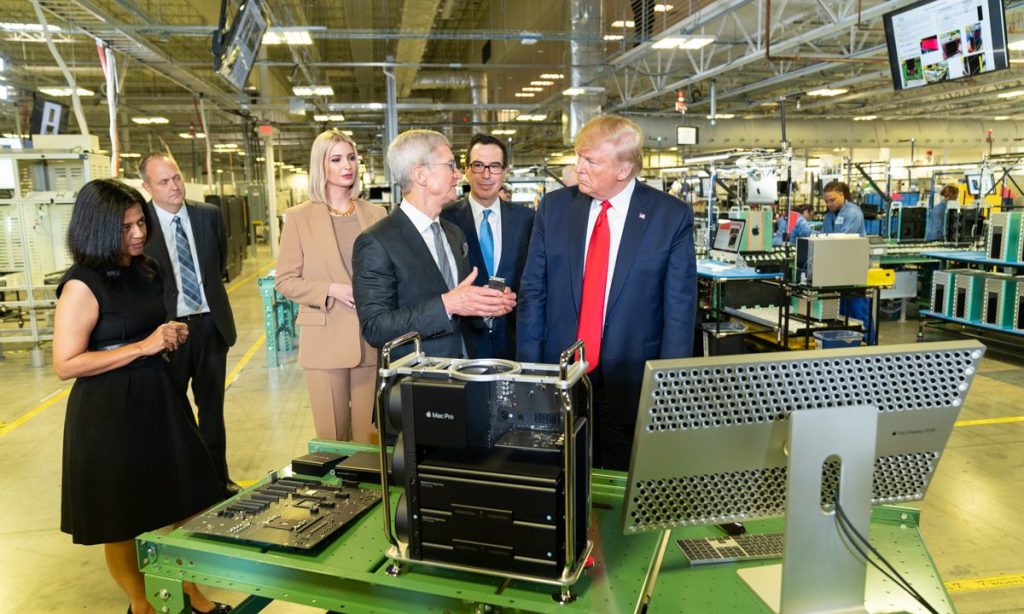 Apple has begun building its new campus in Austin.
And on Wednesday afternoon, Apple CEO Tim Cook and President Donald Trump flew into town to tour Apple's Mac Pro computer production facility.
The Mac Pro facility is near where Apple is investing $1 billion to build its largest campus outside its headquarters in Cupertino, California
"So we view Austin as a very key place for the future of our company," Cook said in a statement at the event.
Apple is constructing a 3 million-square-foot campus on 133 acres that will initially have 5,000 employees with the ability to expand to 15,000 employees. It is expected to open in 2022.
 "Building the Mac Pro, Apple's most powerful device ever, in Austin is both a point of pride and a testament to the enduring power of American ingenuity," Cook said in a news release.
The 244,000-square-foot Mac Pro facility employs more than 500 people in a range of roles, including electrical engineers and electronics assemblers, according to Apple.
Already, Apple has 7,000 employees in Austin, up 50 percent in the last five years.
Apple said it is also working with Austin-based Bartlett Tree Experts to preserve trees on the site of its new campus. It is also designing the campus to maximize green space with a 50-acre nature and wildlife preserve that will be open to the public.
And the campus is slated to run on 100 percent renewable energy, including from on-site solar power generators.
Apple has also partnered with Austin Community College to offer app development with a Swift coding program.
During the visit to Austin, President Trump was asked about whether Apple should be exempt from Chinese tariffs. Apple imports components from China to make its computers in Austin.
"Well, we're looking at that," Trump said in a statement from the event. "And, you know, the problem we have is you have Samsung — it's a great company, but it's a competitor of Apple, and it's not fair if — because we have a trade deal with Korea.  We made a great trade deal with South Korea, but we have to treat Apple on a somewhat similar basis as we treat Samsung."
Samsung has a fabrication plant in Austin which is one of the largest in the world.
"Now, with all of that being said, we're doing very nicely with China, but I like it the way it is now, because we're taking in billions and billions of dollars, and we're giving some of that money to farmers and others," Trump said. "But we are looking at Apple. When I wanted Apple to do, from day one — from before I got elected — I said, "Someday we're going to see Apple building plants in our country, not in China." And that's what's happening."