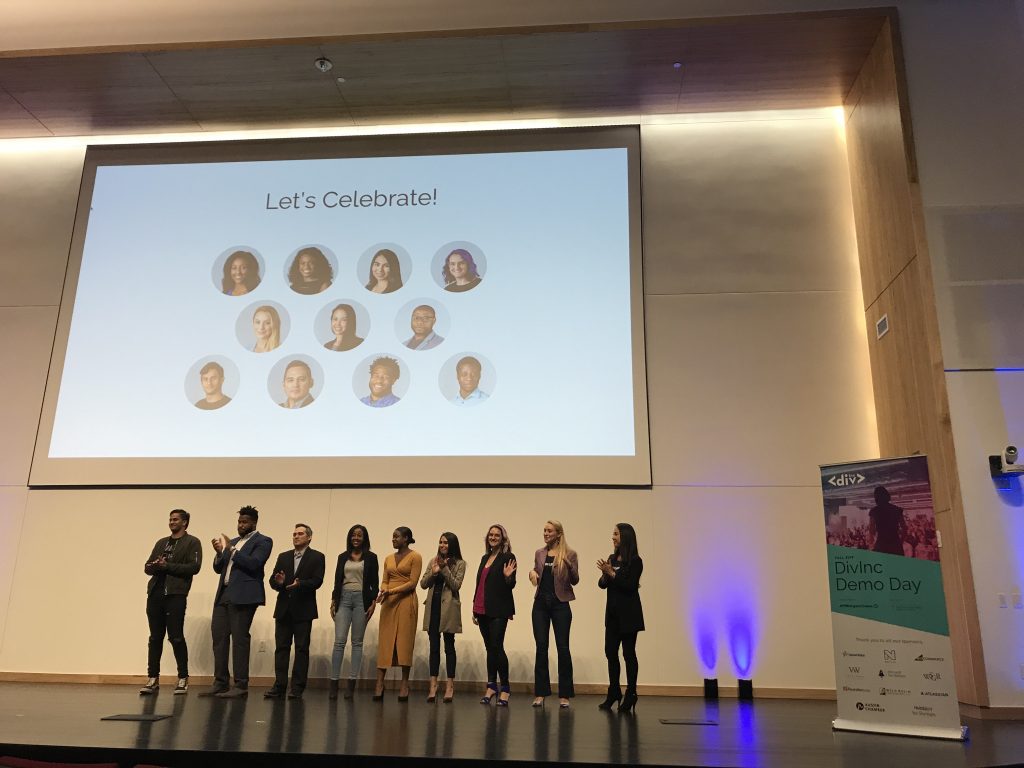 Ten years from now, if DivInc, an accelerator program aimed at helping women and founders of color, didn't exist, then it would have achieved its goal, said Preston James, founder, and CEO.
"We set out to transform the ecosystem by making it more authentically inclusive," James said.
Austin-based DivInc launched in 2016 and has had 5 cohorts, 64 founders and 49 companies go through its 12-week program. It has also branched out into other programs such as Startup Sistas, empowering women of color, Champions of Change, an annual awards ceremony to recognize others in the community who are driving effective change around diversity and inclusion. It also has an alumni program in which it gives them access to investors, mentors, partners, and others who might help their business.
"We come together and make this a very diverse and equitable ecosystem," James said. "Austin can thrive with everyone and not leave anyone behind."
The majority of DivInc's companies are still operating and several have gone on to participate in other programs in Austin like Sputnik Accelerator, Capital Factory Accelerator, MassChallenge Texas, and SKU.
"DivInc provides a place where our founders can be who they really are," James said. "We give them the tools and resources to be successful and thrive."
The latest cohort pitched Wednesday afternoon at the Robert B. Rowling Hall at the University of Texas at Austin's McCombs School of Business.
First up, Leah Mayo, co-founder, and CEO pitched Found Experience, a virtual concierge for vacation rental properties.
Found Experience uses machine learning and artificial intelligence to find the best events, restaurants, bars, and other experiences in a city and then shares that information with vacation rental properties that subscribe to its service. Those vacation rental property owners then provide the information to their renters as a perk.
In the U.S., there are 2.5 million property owners, Mayo said. They are under-resourced and they are struggling to diversify, she said.
Found Experience can help them distinguish their properties, Mayo said.
Found Experience's Software as a Service, SaaS platform raises the bar when it comes to concierge services and helps increase revenue, create brand loyalty and stand out from the competition, Mayo said.
To date, Found Experience has conducted beta tests with users in New York, London and Paris. It is launching with direct sales to property owners and property management companies. It is in two beta tests with business to business companies and is in negotiations with one of the largest property management companies in the U.S., Mayo said.
Next, Rahel Abraham, founder and CEO of ClimaGuard detailed the devastation wreaked by Hurricane Harvey in Houston.
Hurricane Harvey resulted in $5 billion in auto claim losses including Abraham's vehicle.
"As an engineer, I knew I could create a better solution and I did," Abraham said.
ClimaGuard makes a military-grade, waterproof car cover that sells for $299. It's made from tear-resistance waterproof material and it encapsulates a car from tires to top like a Ziplock bag.
Over 41 million Americans live in a flood zone, Abraham said. The U.S. has $10 billion annually from non-hurricane related flooding, she said.
ClimaGuard is selling directly to consumers and is on its way to selling out its first production order by the end of this year, Abraham said.
The third to pitch was Kanna, a marketplace for the gig economy in the fast-growing legal cannabis industry.
In the U.S., there are 296,000 cannabis-related jobs created, said Farhaj Mayan, Co-Founder and CEO of Kanna. But the 39,000 businesses in the legal cannabis industry struggle with hiring, he said.
So Kanna created a platform that connects legal cannabis businesses with employees. Kanna sources quality and trained cannabis workers, Mayan said. Gigs in the cannabis industry typically pay $15 as a starting wage, he said. Kanna does background checks on employees, business verification on employers, Mayan said. Kanna charges employers a per-employee fee.
Kanna launched in Oklahoma with 9 paid pilots live and 68 farms, Mayan said. The industry is growing quickly from $2.3 billion in 2019 to $8.2 billion by 2024, he said.
Right now, cannabis companies hire from staffing agencies like Vangst, FlowerHire, Hempstaff or job boards: Indeed, Budlist, Weedhire, and Craiglist, Mayan said. Kanna differentiates itself from its competition by being a career development company offering employees a digital portfolio, online training, and certifications. It's like LinkedIn for the cannabis industry.
"Our vision is to build a vertically integrated platform across hiring in cannabis, offer education, benefits, and banking for workers," Mayan said.
Hirekanna.com
The fourth to pitch was KikuPal, a personalized employee support platform.
One in 4 employees are going through a life event which results in 30 days of lost productivity per life event or $100 billion in lost productivity annually, said Naomi Bourgeois, CEO, and founder.
She understands the problem firsthand. She had to return to work following the death of her husband, who died from cancer. She had two young children at home. She felt overwhelmed.
"This is where we saw an opportunity to help," she said.
KikuPal, a personalized employee support platform, allows employees and colleagues to buy points for the employee they want to help. Those points can be redeemed for services such as lawn care, rideshare, food delivery or maid service.
Companies' current benefit offerings do not meet needs, 91 percent want customizable programs, Bourgeois said. Already, companies spend $8.7 billion on employee wellness programs, she said.
KikuPal helps to support, acknowledge, and celebrate employees who are going through a life event whether that's a new baby, illness, the death of a close relative or something else.
It's a subscription-based model that charges $3 per employee per month, and it launched direct to consumers last year and has since expanded nationwide, Bourgeois said.
The fifth to pitch was Milly Fotso, founder and CEO of Peace of Home, a platform that streamlines the home finding, moving and decorating experience for consumers.
Sixty percent of Americans say moving is the most stressful life event, with divorce coming in second, Fotso said.
And corporate relocation still sucks, she said.
Moving costs 18 days of lost employee productivity when relocating resulting in $88 billion in lost productivity annually, said Fotso, a former Facebook employee who relocated from New York to Austin.
Every year, 40 million Americans move and $25 billion is spent on corporate relocation annually, Fotso said. It's a highly fractured business, which Peace of Home aims to streamline, she said. Employees can go straight to the Peace of Home platform to coordinate a move and Peace of Home handles everything, coordinating with all the vendors, she said.
"We believe moving should feel less than a divorce and more like a stroll down the beach at sunset," Fotso said.
"Today, we are excited to announce five employers and $225,000 in revenue in 2020," Fotso said. "We are just getting started."
The sixth to present, Frank Mendoza, founder and CEO of Detecting Talent, outlined the problem of attrition and his solution to proactively retain top talent.
Companies spend $1 trillion annually on attrition, Mendoza said. And 52 percent of those employees who quit say there is something their manager could have done to keep them from leaving, he said.
That's where Detecting Talent comes in, Mendoza said. It has created a platform powered by artificial intelligence and machine learning to identify and retain top talent with interactive dashboards, informed action plans to improve engagement and monitor movement, he said.
"Our solution is industry agnostic," he said.
In the U.S. $6 billion with 124 million employees, but Detecting Talent is going to focus on the Texas market first, he said.
In the U.S., 87 percent of companies do not use artificial intelligence to identify at risk talent, Mendoza said. It has monthly subscription plans and is working with IBM and Sono Bella as beta customers, he said.
Last year, Detecting Talent took third place in the IBM Watson competition, and the startup was invited to join the Capital Factory accelerator community, Mendoza said.
Lastly, Averett Barksdale, Co-Founder and CEO of Soko, pitched his mobile gaming loyalty app targeted at college students.
Every year, $130 billion is spent on digital advertising, Averett said. But increasingly it is becoming difficult to reach consumers and convert on those ads, he said. There is a 3.7 percent average conversion rate for digital ads across all industries, he said.
His solution is Soko, a platform that connects brands and consumers on a mobile gaming site.
Every month, mobile gamers spend 1.5 billion hours of time playing games on mobile devices. Soko's solution is a mobile gaming, loyalty and rewards platform for gamers that allows them to play games, earn points and shop.
The loyalty market is worth $54 billion, he said.
In the U.S., there are 80 million college students and that equates to $574 billion in spending power, and 42 percent play mobile games every day, Barksdale said.
Soko makes money by charging a monthly subscription, per user per interaction fee. Its competition is Dosh, drop, LevelUp, Shopkick, Flok, SpotOn, Foursquare, and LoopyLoyalty. But Soko's Secret sauce is as the platform entertains, it creates a relationship that it can then convert, Barksdale said.