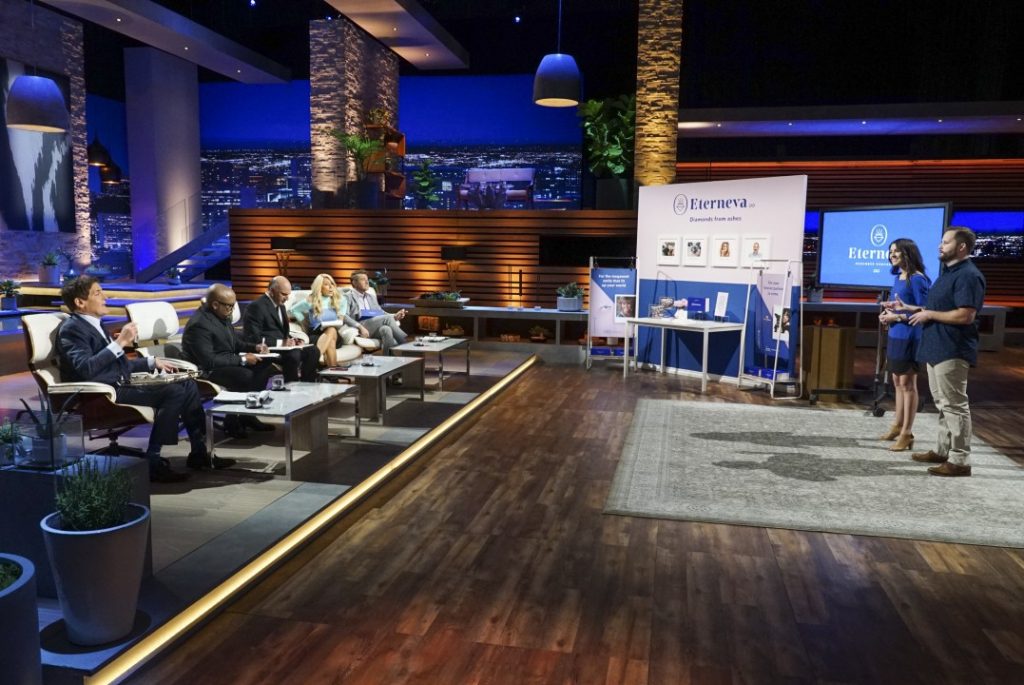 Diamonds are made from carbon and people are made up of carbon, so why not make diamonds out of people?
That's the bright idea behind Eterneva.
And it landed the Austin-based startup a $600,000 investment from Billionaire Mark Cuban on Shark Tank, which aired last Sunday.
Adelle Archer and Garrett Ozar, co-founders of Eterneva, had several sharks interested in investing in their startup which turns cremated ashes into diamonds. But some of the sharks were upset that Eterneva had already raised a $1.2 million seed-stage round of investment. In the end, Eterneva landed Cuban who got a 9 percent stake in the company at an $8 million valuation.
Archer and Ozar handled the negotiations with the sharks well.
"You got to stick to your guns," Archer said. "You got to know what you're worth and be comfortable explaining that."
Eterneva's deal ranked in the top five percent of all Shark Tank valuations. The investment in Eterneva is a positive move in the right direction of the dying well trend, Archer said. Eterneva's mission is to celebrate lives well-lived and give those left behind a way to remember their loved one, Archer said.
Following the show, Eterneva saw a ton of traffic to its website, Archer said. And one of the best parts of the pitch was that Eterneva was able to go on a national stage and shine a spotlight on people who are no longer here, she said. During its presentation, Eterneva highlighted several customers who had a diamond made to remember their loved ones.
Eterneva is part of the "death positive movement," Archer said. People are finally talking about what they want to do at the end of their lives. It's no longer taboo to talk about death, she said.
Archer got the idea for Eterneva while starting a lab-grown diamond company. One of her mentors, Tracey got diagnosed with stage 4 pancreatic cancer and she died and was cremated. That's when Archer decided to extract the carbon from the ashes and grow a diamond to remember Tracey.
"She was the first diamond we made," Archer said.
That is what drove Eterneva to pivot, she said.
"Being the customer, I feel like I had a good instinct on what the experience I wanted," Archer said. "It's as much about the journey to the diamond, like the diamond. We build a ton of anticipation throughout the journey."
The diamond also provides the survivor an outlet to talk about their loved one when the rest of the world stops talking about them, Archer said.
"We're really a grief wellness company," Archer said. "We are for the living who are going through this experience."
The process of creating a lab-grown diamond from ashes takes eight to ten months and involves a lot of intricate steps from growing the diamond from that carbon, cutting, polishing, certifying and setting in jewelry and hand-delivering the diamond. Eterneva hand delivers every diamond it makes, Archer said.
"A lot of our customers will throw homecoming parties," she said. "That's what this is all about. These rituals to help someone through a time that is tough."
Eterneva makes its diamonds in a few different facilities. Its technology comes from Germany. It also has a brand-new facility in South Austin with 14 employees, up from four employees at the start of the year.
The deal with Cuban is going to take Eterneva even farther, Archer said.
"I think Mark is going to be a phenomenal person to open doors and break into new opportunities," she said.
Already, Cuban helped Eterneva land a consumer financing plan to make the cost of the diamond more accessible to people, Archer said. Eterneva's diamonds start at $3,000 with the average price being around $8,000. The cost varies depending on the size, style, and color of the diamond.
A cremated body yields about eight to ten cups of ashes and Eterneva only needs a half of a cup of ashes to extract the carbon and create the diamond, Archer said.
.