For the past three months, Cowtribe Cofounders Peter Awin and Alima Bawah, have rented apartments throughout Austin after moving more than 6,000 miles from Ghana to participate in the Techstars Impact program.
"We have had a great experience," Awin said. "We've gone from one apartment to another trying to understand the culture here."
Cowtribe participated in the second annual Techstars Impact Accelerator, which held its Demo Day last Thursday at the Austin Central Library.
Techstars Impact backs for-profit, mission-driven founders building tech to solve social and environmental problems, said Zoe Schlag, managing director of the program. The number of impact companies being accepted globally across Techstars' ecosystem has been increasing year over year since 2013, and Techstars has seen strong performance from impact companies at later stages such as Zipline, recently valued at over $1 Billion, Schlag said.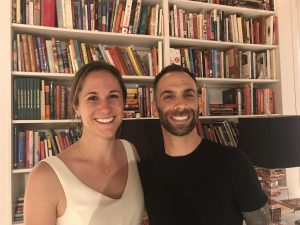 The Techstars Impact program has helped Cowtribe immensely, Awin said. The startup, founded in 2016, is a livestock pharmaceutical distribution company. It leverages mobile technology to distribute vaccines to farmers in remote locations in Ghana through a monthly subscription program.
"Africa has 200 million small livestock producers and they are losing 25 percent of what they produce to diseases that can be easily treated if they had access to the medication," Awin said. For example, 75 percent of all chickens with Newcastle disease die without the vaccine, he said.
Cowtribe, which has raised about $800,000 to date, is only in Ghana now but plans to roll out to neighboring countries like Nigeria soon, Awin said.
Another agriculture tech startup, AgHelp, based in Grand Rapids, Michigan, is addressing the agriculture labor shortage by connecting ag workers to employers and worker resources nationwide.
With AgHelp employers pay a monthly subscription to post jobs which allows them to source labor nationally, said Feliciano Paredes, its founder.
In the past three months, AgHelp has built a presence in over 15 states with 22 employers and over 1,000 workers, Paredes said. It is piloting a project with the largest ag lender in the Midwest to roll out AgHelp to over 50,000 customers. It has also created a partnership with the Texas Migrant Education Program which will reach thousands of workers every season.
The agriculture labor shortage represents a $2.8 billion market opportunity for AgHelp, Paredes said.
VitalFlo makes hardware and software to monitor the health of patients with asthma. The startup has created a Bluetooth-enabled handheld device, called a spirometer, and an app to make respiratory patient management easy, reduce the cost of care and improve patient outcomes, said Luke Marshall, Founder and CEO.
With a doctor's prescription, VitalFlo watches for lung health, and asthma triggers in a patient's home using advanced analytics it can deliver forecasts back to the doctor so they can intervene and prevent an asthma attack before it happens.
VitalFlo, based in Raleigh, North Carolina, is backed by funding from the National Science Foundation and Institute of Health.
One in 12 people in the U.S. has asthma and the U.S. spends $1.3 billion a year on ER visits due to asthma attacks alone, Marshall said.
Later this month, VitalFlo is launching a paid partnership with two programs at the Duke Clinical Research Institute, Marshall said.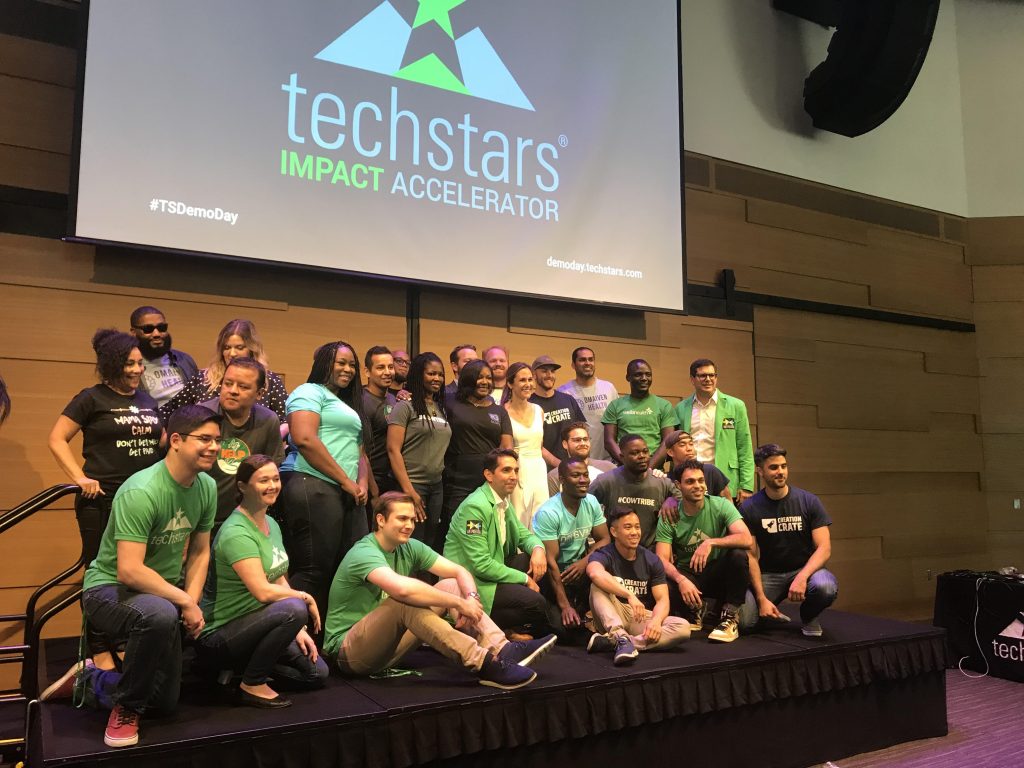 R3 Score, based in Baltimore, has created an alternative risk analysis tool for the one in three American consumers living with a criminal record otherwise barred from financial products and opportunities, said Teresa Hodge, CEO of R3 Score.
"I understand this problem personally, I am one of the one in three Americans living with a criminal record," she said.
The problem is criminal background checks and credit scores are two tools that are widely used to determine access to opportunities for all, denies opportunity for a third of all people, Hodge said.
R3 Score provides a ranking on the severity of the crime a person committed on a scale from one to ten, Hodge said. And then R3 Score evaluates a person's past and recent accomplishments and assigns a score from 300 to 850 like a credit score, she said. Decision makers now have two more data points to act on, she said.
With R3 Scores individuals who are making positive changes in their lives can now have that reflected in their R3 Score, Hodge said. It is working with non-profit banks to provide more opportunities to people with criminal records, she said.
"For us, this is the America we believe in," Hodge said. "One that allows second chances and allows full participation for everyone."
Wellahealth, based in Nigeria, provides affordable micro-health insurance for Africans targeting high-occurrence diseases such as Malaria
'Fifty percent of all people in Nigeria have one episode of Malaria once a year," said Ikpemo Neto, founder and CEO of Wellahealth.
Only eight percent of Nigerians have healthcare insurance, Neto said. The market is a multi-billion-dollar opportunity and Wellahealth has a solution with its affordable micro-health insurance that costs $1 month, he said.
The founding team of Wellahealth has had malaria more than 50 times during their lifetimes and the story is similar for other Africans, Neto said.
Wellahealth has sold 2,000 policies so far, Neto said. And it has signed on as an underwriter, one of the largest insurers of the world, Axa, he said.
DontGetMadGetPaid, based in New Orleans, has a solution to help women collect unpaid child support.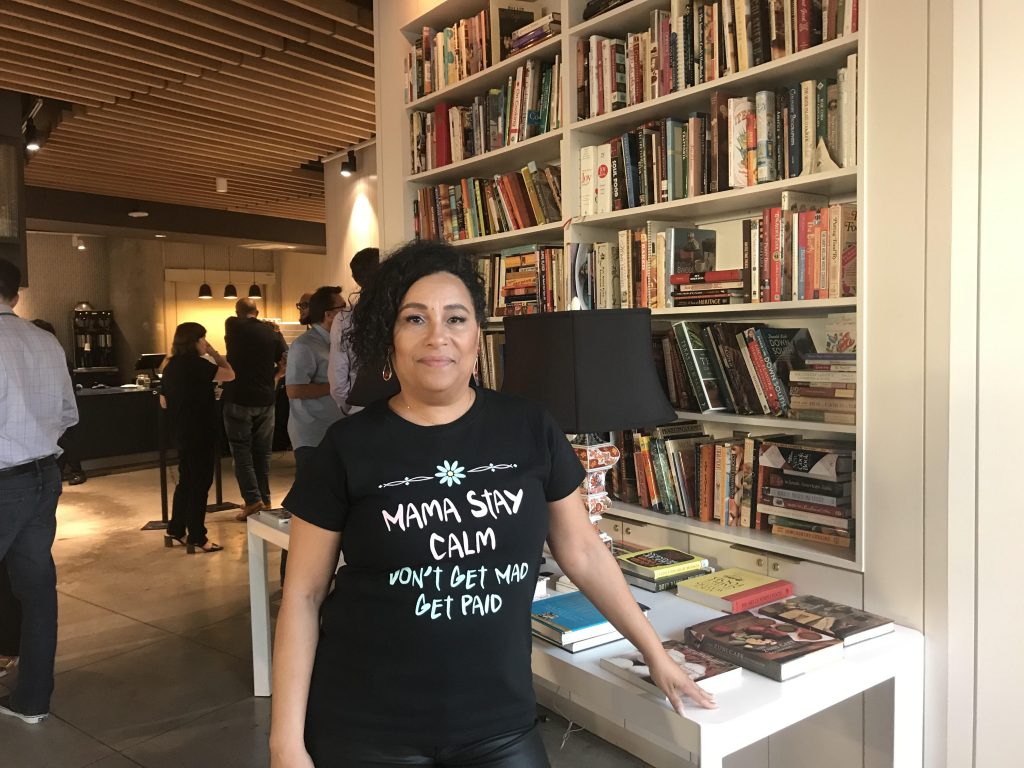 The U.S. government reports there is $118 billion in child support that is owed to women, said Simone Spence, Founder and CEO of DontGetMadGetPaid. There are 14 million unique cases and 7 million women that are owed, she said. But, millions of cases are not reported because women get frustrated and walk away leaving money on the table because the system is not working for them, she said.
"We've created a solution to fix this problem," she said.
The DontGetMadGetPaid platform does all the asset searching for the moms, she said. It also generates the paperwork and state requirements they need to collect what they are owed. The platform is available in all 50 states.
The solution came out of Spence's own experience. She had a child support collection problem and learned how to navigate the system.
"I am on a mission to help women collect this ginormous amount of money," Spence said.
Creation Crate, based in Toronto, Canada, is a subscription service that delivers a new tech project each month. The startup, founded in 2016, is taking on the $200 billion e-learning market, said Chris Gatbonton, co-founder and CEO.
Creation Crate is focused on programming and electronics, Gatbonton said. For example, subscribers can learn how to build a Bluetooth speaker.
"I started this company with $150 and we bootstrapped it to over $1.2 million in sales today," Gatbonton said.
Creation Crate has shipped 32,000 projects to 65 different countries, Gatbonton said. About 65 percent of its customers are in the U.S., he said.
DrugViu, based in New York, is a population health platform that is expanding the data set of health, medication and genomics data. It launched earlier this year to capture medication reviews from people who are Asian, Black, Latino, Native American, and Indigenous people. The platform aggregates their responses and synthesizes that data to show trends based on demographics.
"So now you can look at a medication and say I am a woman, I am African American and I'm in this age range, these are what the women who look like me are saying about this drug," said Melanie Igwe. She co-founded the company along with Kwaku Owusu.
"The reason that we do this is because 94 percent of medical participants, primarily for clinical trials, are white," Igwe said. That means medications are not optimized for the 40 percent of Americans who are not white, she said.
And that can have dire consequences. African American and Hispanic children are four to six times more likely to die from an asthma attack because asthma medications do not metabolize as well for them, Igwe said.
The research that was done on a lot of drugs did not take into consideration the efficacy and side effects in people of color, she said. DrugViu is providing that information to consumers, she said.
Jerold McDonald, CEO and Co-Founder, started Austin-based Omaiven Health to help healthcare providers deal with no-shows or missed appointments. It's a $150 billion problem in the U.S. annually.
McDonald started the company in 2017 with his cofounder Ani Bagepalli. The company also graduated from the DivInc Accelerator in 2018. The company created an artificial intelligence-powered app, AskMia, to make sure a doctor's schedule stays full and that patients don't miss appointments.
Mr. Presta is a small business lending company operating in Latin America. It is a full-service lender.
The Austin-based startup, founded in 2015, has raised $700,000 to date. It was also part of the RealCo Accelerator program based at Geekdom in San Antonio.
"Small businesses have challenges getting funding," said Carlos Rosso, co-founder of Mr. Presta.
Its main business line has been ecommerce merchants in the categories of electronics, clothing and auto parts, he said. Mr. Presta has processed more than 10,000 loan applications to date, and it has issued loans worth more $5 million, he said.