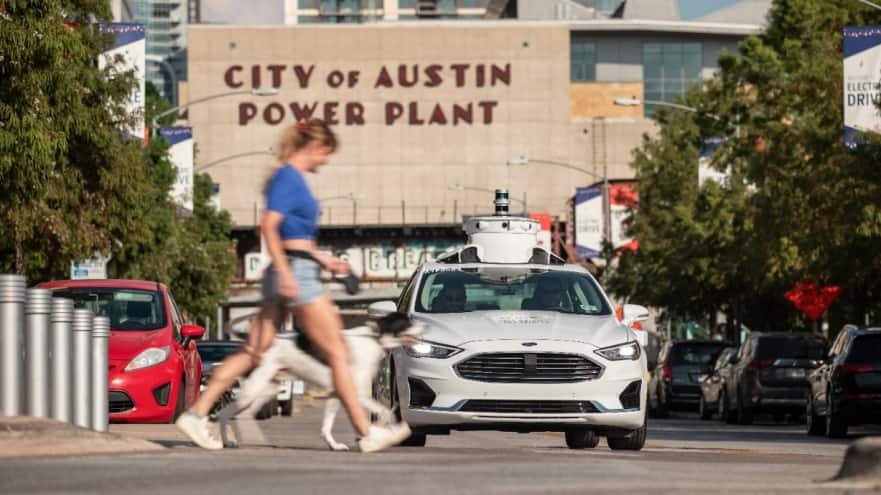 Four years ago, Google's self-driving car expert said he hoped Austin would have autonomous vehicles commercially available for the public to ride in on the city's streets by 2019.
That vision hasn't exactly come to fruition.
But it's becoming closer to reality with the testing of a driverless shuttle at the Austin Bergstrom Airport earlier this year.
And now Ford has announced plans to expand its self-driving vehicles testing to Austin. It's only the third market for Ford to test in along with Miami-Dade County and Washington, D.C.
"As the first city to allow a self-driving test vehicle on public streets, Austin is no stranger to experimentation," Sherif Marakby, CEO of Ford Autonomous Vehicles LLC, wrote in a blog post on Medium. "And we think now is the perfect time to continue exploring how this technology can become an important part of a city's transportation infrastructure — and make people's lives easier."
In 2015, Austin became the first city outside of Google's hometown of Mountain View, California, for it to test its self-driving car technology.
The Capital Area Metropolitan Planning Organization predicts vehicle use in the Austin region could double by 2040, while highway capacity will only grow 15 percent, according to Marakby.
"Simply put, Austin has to look towards diverse and innovative ways to move people around," he said.
And Ford thinks it can provide the solution. Ford is expanding its self-driving vehicle services testing operations in Austin in collaboration with Argo AI. It is also working closely with city, state officials and community partners to fit into plans for the wider transportation system.
Texas passed SB 2005 in 2017, which Gov. Greg Abbott signed into law, to regulate the operation of automated motor vehicles. It also created a Connected and Autonomous Vehicle Task Force to study self-driving vehicles.
"Austin continues to be a huge proponent of innovation, becoming the first city in the world to host a driverless vehicle on public streets and forming a Smart Mobility Office that's focused on quickly piloting new technology," Marakby said.
"Almost 75 percent of Austinites commute by driving alone in personal vehicles," according to Austin Mayor Steve Adler. "This is simply unsustainable. Our 20-year goal is for at least 50 percent of people to take advantage of other transportation options, like buses or bicycles. With our region's population on track to double in the next 20 to 25 years, it's clear we need to re-think how our right-of-way is used if we want people to be able to move around our city."
Austin's Smart Mobility Roadmap includes the use of self-driving vehicles to expand mobility options for Austin's residents, Adler said.
Automated vehicles have the potential to increase safety and provide more accessibility options to the community, Mayor Adler said.
In the next few months, Ford with Argo AI will be driving its vehicles manually through east Austin and downtown, mapping the roadways in preparation for its autonomous driving test, Peter Rander, president of Argo AI, said in a statement.
"Eventually we will expand beyond these areas, but these initial mapping trips help us develop a comprehensive understanding of the environment around our vehicles," he said. "For example, we use sensors on our vehicles to create high-resolution, 3D maps of streets, buildings and all permanent static objects in areas where we plan to operate."